World's Most Active IPO Market Starts to Show Signs of Stress
(Bloomberg) -- Amid a banner year for Hong Kong listings, cracks are starting to appear in the world's biggest market for initial public offerings.
A parenting website part-owned by Alibaba Group Holding Ltd. on Tuesday delayed the launch of its Hong Kong IPO, while one of China's top travel-booking sites started taking orders for an offering in the city that's a fraction of its earlier fundraising target.
Backing from some of China's biggest firms may not be enough to get investors excited in a market like this. Babytree Group, which abruptly canceled a press conference to kick off its listing, counts Alibaba and billionaire Guo Guangchang's Fosun International Ltd. as investors. It hasn't announced a new timetable for the deal.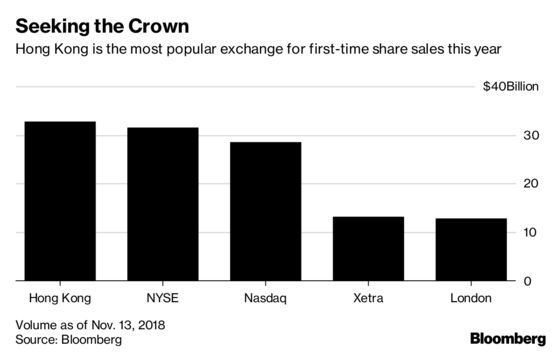 Meanwhile, travel website Tongcheng-Elong Holdings Ltd. started a roadshow Tuesday for an IPO of as much as $232 million. The company was earlier considering a fundraising target of $800 million to $1 billion, according to people with knowledge of the matter. Unlike most listings in Hong Kong, the deal launched without any cornerstone investors.
Such investors typically commit to hold their stock for six months. That's become a risky proposition in Hong Kong, where the benchmark index has fallen 23 percent from its January high. It doesn't help that roughly three-quarters of Hong Kong IPOs this year are trading below their offer prices. A representative for Tongcheng-Elong declined to comment.
This all adds up to bad news for a market that has hosted three of the world's five biggest IPOs in 2018. Hong Kong first-time share sales have raised $37.2 billion this year, more than double the same period last year.