Hong Kong Retail Sales Plummet After New Virus Restrictions
(Bloomberg) -- Hong Kong's retailers didn't see much benefit from the key holiday shopping season, with sales plunging in December after the government tightened controls to combat a surge in virus cases
Retail sales by value fell 13.2% from a year ago to HK$31.4 billion ($4.05 billion), after dropping a revised 4.1% in November, the Hong Kong Census and Statistics Department said in a statement Tuesday. The median estimate in a Bloomberg survey of economists was -14.7%. Retail sales by volume declined 14%.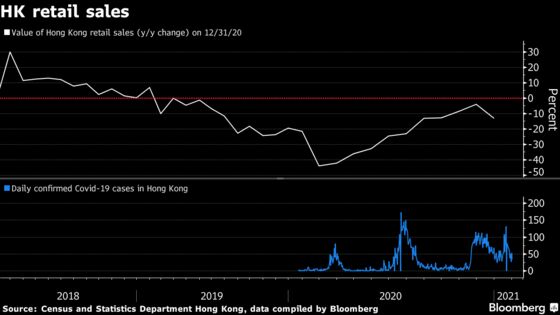 "The business environment of the retail trade will remain challenging in the near term amid frozen inbound tourism and the ongoing local epidemic," the government said in its report. Retail sales by volume fell a record 25.5% in 2020, it said.
The value of retail sales posted significant declines in December across many industries including food, alcoholic drinks and tobacco, commodities in department stores, jewelry and clothing. On the other hand, sales in supermarkets, electrical goods, motor vehicles and furniture rose, the data showed.
Retail sales have declined every month since January 2019 amid a wider economic recession. Even before the global pandemic cut off travel and tourism, widespread social unrest and protests on the streets in 2019 kept shoppers away.
The city's economy just finished an unprecedented two years of economic declines, shrinking a record 6.1% in 2020 from the previous year. The city's economy hasn't contracted for two straight years before, according to data going back to 1962.
Both Chief Executive Carrie Lam and Financial Secretary Paul Chan have recently expressed optimism Hong Kong's economy will rebound in 2021, with the recovery expected to come in earnest in the second half of the year, depending on the rollout of vaccines. The introduction of the National Security Law last year has also cowed widespread public protests.
"Once people can go out, the retail sector, the F&B, and all the entertainment will come back," Lam said in a Jan. 28 with Bloomberg TV. "The most difficult is tourism. So airlines, hotels perhaps will still have to suffer a while."
Chan is set to unveil his latest annual budget, including potential relief for individuals and businesses, on Feb. 24.