Hong Kong's Growth Forecasts Cut as Omicron Spreads
Hong Kong's economic outlook for this year is off to a rocky start as an outbreak of omicron-variant virus cases is set to hit the retail sector, cross-border travel and the city's status as a regional financial hub. 
Morgan Stanley on Friday cut its forecast for gross domestic product growth by 50 basis points to 2.5%, citing a delayed reopening of borders with China and a possible disruption to consumption during the Lunar New Year period. Bloomberg Economics reduced its estimate to 2% from 2.3%.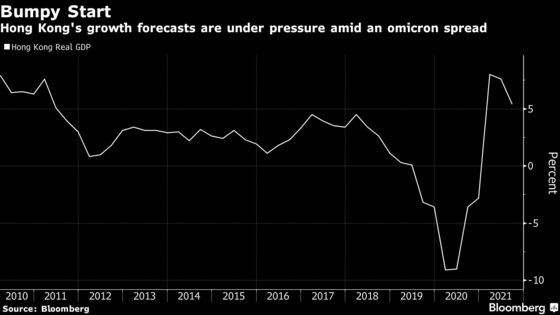 The economy was poised to return to levels of activity seen before the pandemic and protests of 2019. The government hasn't given a growth projection for 2022 yet, but Financial Secretary Paul Chan said recently the economy can continue its growth trajectory if the external environment doesn't deteriorate significantly and the local epidemic situation can be kept under control.
"The renewed restrictions introduced in Hong Kong are expected to once again dampen economic activity, particularly for the service sector and for firms reliant on face-to-face interactions," Jingyi Pan, an economics associate director at IHS Markit, said in an email. 
In previous episodes of virus clusters, the territory's purchasing managers' index registered an immediate contraction of business activity and the market will be closely monitoring upcoming figures, she said. While IHS Markit maintains a forecast for GDP growth of 3.2%, "the near-term outlook remain clouded by Covid-19."
Fitch Ratings Ltd. has also flagged downside risks to its expectation for 3% growth this year. At Bank of America, analysts expects a 0.1 to 0.2 percentage point downside to its annual growth forecast of 2.4% if the measures are extended, and a "marginal" impact if they are eased.