Hong Kong Retail Sales End Two-Year Losing Streak With 30% Gain
(Bloomberg) -- Hong Kong's retail sales ended a two-year losing streak in February, surging 30% from a year ago because of last year's low base when the coronavirus outbreak brought the economy to a halt.
Retail sales by value rose to HK$29.5 billion ($3.8 billion) last month, the Hong Kong Census and Statistics Department said in a statement Tuesday. The gain was far lower than the median forecast of 44% in a Bloomberg survey of economists. Retail sales by volume climbed 31.7% from a year earlier, well below the 42.5% projection by economists.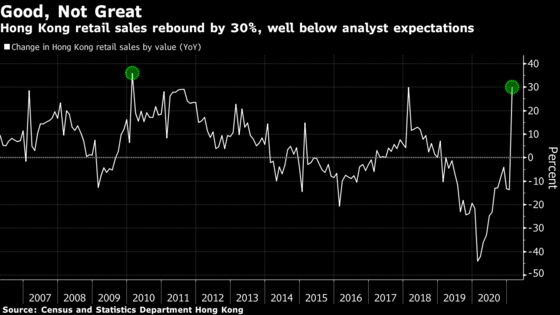 While the retail sector is on a gradual recovery, spending was still affected last month by restrictions imposed to curb a fourth wave of infections. The figures were also partly distorted by the Lunar New Year break, which fell in February, according to the statistics department.
"Retail trade will continue to face a difficult business environment in the near term as inbound tourism remains frozen," it said. "It is thus pivotal to put the epidemic under control at the soonest possible."
The government recently relaxed some Covid-19 related social distancing rules, including reopening swimming pools and public beaches and increasing capacity at movie theaters and theme parks.