Hong Kong Retail Growth Slowed Again in July Ahead of Vouchers
(Bloomberg) -- Supply Lines is a daily newsletter that tracks trade and supply chains disrupted by the pandemic. Sign up here.
Hong Kong's retailers saw consumption growth slow more than expected in July as social distancing measures to control the virus continued to constrain spending and local shoppers awaited the arrival of electronic vouchers the following month.
Retail sales value was HK$27.2 billion ($3.5 billion), up 2.9% from a year ago, according to a government report. That's well short of the median economists' forecast for 10% growth. Retail sales volume rose 0.9%, also short of expectations for a 6.9% advance.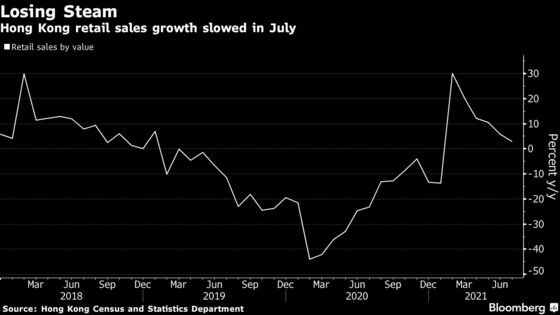 "The electronic consumption vouchers that the government began to disburse in August have helped stimulate consumption sentiment and will render support to the retail business in the rest of the year," the report said. Consumption in the city continued to increase at a more moderate rate as the local virus situation remained stable and labor conditions improved, the report said.
Hong Kong's economy is gradually recovering from its historic two-year recession thanks to a resilient financial services industry, surging real estate prices and rebounding trade. At the same time, retail consumption is still severely hampered by Covid-19 border restrictions that have cut off tourism spending. 
The city's population has also been falling at a record pace over the past 12 months as people left in the wake of the pandemic and national security law.
The Hong Kong government raised its growth forecast for 2021 to a range of 5.5% to 6.5% earlier this month as it began distributing HK$5,000 consumption vouchers to eligible residents to encourage spending. The program will cost an estimated HK$36 billion and provide a 0.7 percentage-point bump to economic growth for the year, according to an April government report. The economy grew 7.6% on an annual basis in the second quarter.