Hong Kong Gives HK$120 Billion Boost to Economic Recovery
(Bloomberg) -- Hong Kong gave consumers a boost with spending vouchers and loans for the unemployed, while hitting investors with a planned tax hike on stock trading.
Financial Secretary Paul Chan outlined HK$120 billion ($15.5 billion) of fiscal support in his budget Wednesday to spur consumption and ease joblessness in an economy that's slowly recovering after two years of recession. To boost revenue, he proposed raising the stamp duty on trading to 0.13% from 0.1%, sparking a selloff in equities.
Chan said the focus of the budget is on stabilizing an economy hit by political and social unrest in 2019 and then the coronavirus pandemic last year. After a record contraction of 6.1% last year, the economy will grow in a range of 3.5%-5.5% in 2021, he said.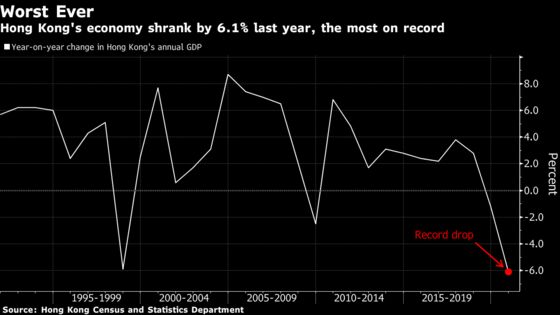 At the same time, Chan is seeking to rein in the budget deficit by raising revenue. The deficit is expected to narrow from a record of about HK$260 billion in the fiscal year ending March 31 to HK$101.6 billion in the coming year -- or 3.6% of gross domestic product.
That compares with a deficit target of 2.2% for financial rival Singapore and a global average of 8.5% in 2021, according to International Monetary Fund projections.
"The relief measures to support enterprises and individuals contained in this year's budget are not as generous as those in the last year," said Kenneth Wong, a tax partner at PwC Hong Kong. "We understand there is a need for the government to balance the budget and generate additional revenue such as raising stamp duty. However, we hope that this is just a temporary measure."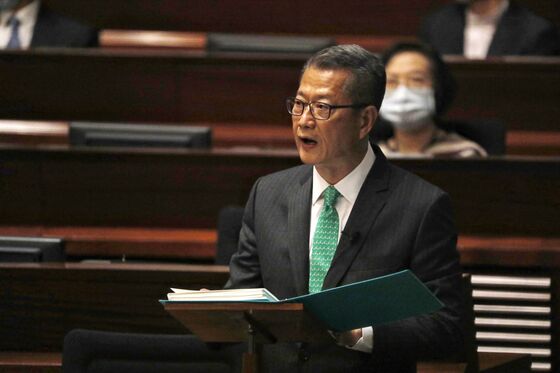 The announcement on the planned trading-tax hike sent Hong Kong's benchmark Hang Seng Index down 3% on the day, led by an 8.8% drop in Hong Kong Exchanges & Clearing Ltd. Mainland-based funds sold a record $2.6 billion worth of Hong Kong stocks through exchange links with Shenzhen and Shanghai.
Chan said the planned hike is "not a high percentage in terms of an increase and we've taken into account the need to remain competitive."
Transaction costs are just one factor that affects investor behavior and the stock market should continue to perform well, said Sarah Chan, a tax partner at Deloitte China. "However, we strongly recommend the government to continue to review the impact of this measure," she said.
The consumption vouchers should help stimulate spending, benefiting restaurants, retailers and tourism businesses knocked by virus shutdowns last year. Retail sales in the city have plummeted and unemployment surged to the highest in more than 16 years.
What Bloomberg Economics Says...

Long-term scarring in Hong Kong's economy is a major risk without effective support for hard-hit sectors -- a situation the government intends to address in its budget for next fiscal year.

High-frequency data show the economy is starting to look up at last. New cases of Covid-19 have continued to retreat, and a vaccination programwill start Friday

-- Chang Shu, chief Asia economist

Click here for the full report
Iris Pang, chief economist for Greater China at ING Bank NV, said spending coupons could be an "inefficient and an ineffective tool during Covid." Administration costs would be higher compared with cash handouts, she said.
The government announced almost HK$320 billion in virus stimulus last year to support industries and the economy, centered on a HK$10,000 cash handout to residents and a wage subsidy program to stem job losses.
Other highlights of the budget speech:
Tax rebates provided with a cap of HK$10,000
Loan guarantees for unemployed capped at HK$80,000 per person. The government will set aside HK$15 billion for the program; loans will carry 1% interest, with applicants given a moratorium on repayments for first year
Consumption vouchers to cost about HK$36 billion
HK$1 billion of subsidies for older buildings
Series of measures to support tourism, including HK$765 million to the Hong Kong Tourism Board to revive the industry
HK$6.6 billion to create about 30,000 "time-limited jobs" for a period of

up to

12 months
Land sale program for coming year totals 15 residential and three commercial sites
HK$500 million to enhance facilities in country parks, including lookout points, treetop adventure and glamping sites, improving toilet facilities
Registration tax for private cars increased by 15% and the vehicle license fee raised by 30%