Hong Kong's Leader Lays Out Future Tied to Beijing After Unrest
(Bloomberg) -- Last year, Hong Kong Chief Executive Carrie Lam only made it through a few lines of her annual policy address before pro-democracy lawmakers forced her to flee the chamber and deliver it virtually.
On Wednesday, she spoke for more than two hours to a legislative body with no members of an opposition that has long resisted the city's integration with the mainland. After quoting Chinese President Xi Jinping at the outset, Lam defended Beijing's sweeping actions to exert greater political control over Hong Kong while outlining steps aimed at interlocking the two economies.
The address, which was delayed so Lam could consult Communist Party leaders in Beijing, featured a slew of references to the mainland compared with last year's abbreviated speech. They included a section on the benefits of a sweeping China-imposed national security law, which prompted the U.S. to revoke Hong Kong's special trading privileges and sanction top Chinese and Hong Kong leaders, including Lam.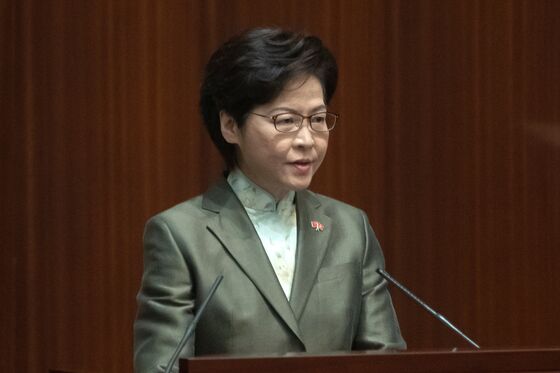 ​The 24,000-word speech featured few immediate measures that would provide relief for a city reeling from a new wave of virus infections, an economy in deep contraction and worsening wealth inequality. The Hang Seng Index pared an earlier gain of as much as 1.7% to close up 0.3% on the day.
"For many small businesses that are still fighting to survive they would be disappointed, especially now that the city is entering the fourth wave of Covid outbreak," said Tommy Wu, senior economist with Oxford Economics in Hong Kong.
"The main objective of today's policy speech was really about Hong Kong-China integration in the post-national security law era," he said. "Many of the economic policies mentioned in the speech have a mainland China element to it, from finance to tech to youth employment."
Lam's remarks reinforced the extent to which Hong Kong's future is tethered to China, a trend that has only accelerated as Beijing moved to snuff out any political dissent in the former British colony. While the city remains a conduit for Chinese companies to raise capital, more Western businesses are questioning Hong Kong's viability as a financial hub -- particularly as doubts grow over the independence of the judiciary.
Key highlights from Lam's speech:
Double stamp duty for commercial property will be scrapped from Thursday. No plans to adjust the duty for residential property
Hong Kong to add eligible biotech equities to stock connect program with China and expand its scope
HK$600 million in relief measures will be allocated for the tourism sector
HK$1 billion injection proposed to support creative industries
Hong Kong to become carbon neutral by 2050
Lam spent a sizable part of her speech promoting the Greater Bay Area concept that seeks to create a Silicon Valley-style regional economic zone with the nearby mainland cities of Guangzhou and Shenzhen. She spoke about various programs to boost employment opportunities for young Hong Kongers to take jobs in the mainland, including wage subsidies for Hong Kong tech companies to deploy staff in mainland cities and funding for a cross-boundary youth entrepreneurship plan.
"The biggest opportunity lies with central government support to tap into the mainland market," Lam said. "This is the growth engine."
However, critics in Hong Kong see the project as an attempt to further erode the former British colony's autonomy following Beijing's moves to crack down on political speech and assembly. Opposition politician Claudia Mo, who resigned along with other pro-democracy politicians this month, criticized Lam's remarks on the Greater Bay Area, saying on Twitter that it would mark the "end of Hong Kong as we know it."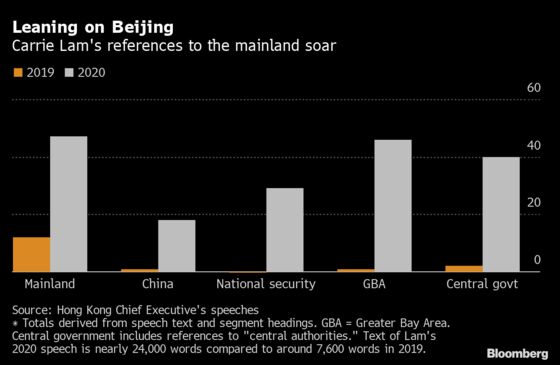 While some young people in Hong Kong would take up the offer to look for work in China, the majority are unlikely to jump at the opportunity, said Jean-Pierre Cabestan, chair professor of political science at Hong Kong Baptist University and author of several books on Chinese politics.
"For them it's a plan B if they can't find anything here, or even a plan C," he said. "And some want to leave Hong Kong anyway to go to Canada, Australia -- to migrate, because they can't stand it anymore."
Lam didn't announce any significant new spending measures in her speech, and an announcement on a stock connect initiative disappointed investors betting on more fund inflows into shares of technology behemoths listed in Hong Kong. The government has already provided more than HK$310 billion ($40 billion) in virus stimulus this year, with Lam previously saying that the tight fiscal situation means there's limited room for more expenditure.
"Japan is doing one more stimulus with huge debt and Hong Kong, with fiscal reserves, is not doing more," said Alicia Garcia Herrero, chief Asia Pacific economist with Natixis SA. "I cannot really understand this."
Read more on Hong Kong:
HKEX Stock Connect Expansion to Give Only Marginal Boost: React
In another sign of closer ties, the People's Bank of China and Hong Kong Monetary Authority agreed to renew their currency swap program for five years and also expanded the size of the program to 500 billion yuan ($76 billion) from 400 billion yuan, China's central bank said in a statement.
The resurgence in virus cases is proving a more immediate setback for the economy, which is set to contract 6.1% this year. The government imposed new restrictions Tuesday, shutting down bars and nightclubs and limiting the number of people at banquets. The outbreak has already delayed a Hong Kong-Singapore travel bubble meant to revive tourism in the two financial hubs.
Recent data shows a mixed outlook for the economy. Exports resumed their decline in October after a strong gain in the previous month. Bloomberg Economics' high frequency dashboard shows subdued activity before the latest social distancing measures were imposed.
Still, Lam said it was an urgent priority to end the "chaos" in the city. She said the central government had "no alternative" to stepping in this year and painted opponents who called for democratic elections as separatists who colluded with foreign powers. At the end of her remarks, Lam said she was "extremely grateful to the central government for its trust in me."
Overall, the speech is unlikely to improve Lam's dismal popularity ratings, according to Ma Ngok, associate professor on Hong Kong politics at the Chinese University of Hong Kong.
"Of course these policy measures won't win over any support," he said. "They hate her too much."