Hong Kong Retail Sales Slump as Officials See More Protest Pain
(Bloomberg) -- Hong Kong's government sees the retail business in the city suffering further amid ongoing political protests, as more evidence emerged that the turmoil is hurting the economy.
Retail sales by value dropped 6.7% in June from a year earlier, the fifth straight month of declines, according to a government report on Thursday, and more than the 1.9% contraction forecast by economists. The overall economy contracted in the three months through June from the first quarter, and embattled Chief Executive Carrie Lam said earlier in the week that she saw "no room for optimism" for the economy this year.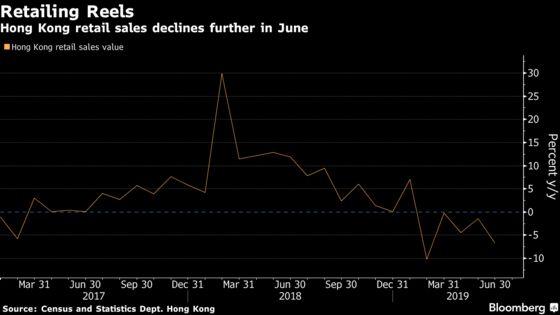 Hong Kong's trade-dependent economy was facing a full-year deceleration even before protests over the government's extradition bill began disrupting business and tourism in June. The unrest continued into July and that likely affected retail sales last month as well, and without resolution the effect will continue.
"The decline in retail sales was a bit larger than expected, due to high base effect and the weakness in both local and tourist spending," said Carie Li, an economist at OCBC, who forecasts retail sales to fall in 2019. The increasing social unrest will affect inbound tourist numbers and that, combined with the strong dollar, the trade war and the global slowdown, makes a larger fall in July likely, she said.
The government was also pessimistic about the outlook.
"Near-term performance of retail sales will likely remain subdued, as the weakened global and local economic outlook and other headwinds continue to weigh on consumption sentiment," the government said in a statement. "The recent mass demonstrations, if continued, would also dent the retail business further. The government will continue to monitor the situation."
Companies have also felt the pinch, with small business in the city saying they were more pessimistic in July than at any time in the past seven years, and international brands also feeling the damage.
L'Occitane International SA, the retailer of cosmetics and beauty-care products, said last week that sales in Hong Kong dropped 19% for the quarter ended in June.
"Hong Kong has been challenging," Andre Hoffmann, L'Occitane vice chairman, said during a conference call with analysts. "We lost several trading days in the quarter due to the protests. Chinese tourists spending in our shops has declined. All these are a bad cocktail for our business."