Hong Kong Jobless Rate Drops for Second Month on Better Economy
Hong Kong's unemployment rate fell for a second straight month in April as the city slowly emerges from an extended slump fueled by the pandemic and social unrest.
The jobless rate fell to 6.4% in the February-to-April period from 6.8% previously, according to a government report Thursday. It's the first time the measure has fallen for two straight months since 2013, according to data compiled by Bloomberg.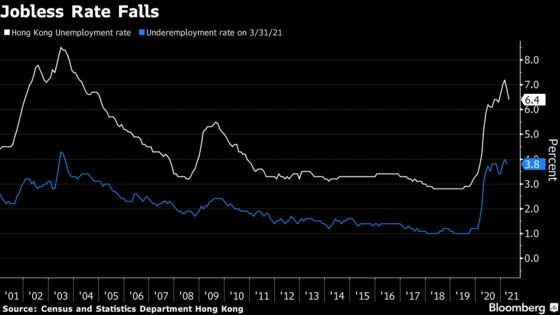 Hong Kong is showing increasing signs of rebounding from its unprecedented two-year recession, posting its fastest growth since 2010 in the first quarter with a revised 7.9% year-on-year jump, according to final figures from the Hong Kong Census and Statistics Department last week. Officials also maintained their full-year projection for growth in the 3.5% to 5.5% range.
Still, the recovery has been an uneven one, with surging exports masking weak domestic consumption. Efforts to reopen the borders to revive tourism spending remain hampered by slow vaccinations, while a proposed travel bubble with Singapore is once again delayed.