HNA Surrenders Hong Kong Office Space It Never Occupied
(Bloomberg) -- As HNA Group Co.'s global ambitions continue to shrink, so too does its need for office space.
The debt-laden Chinese conglomerate is surrendering eight floors of office space in Hong Kong's business district that it never occupied, according to people familiar with the matter. Some of the floors in Three Exchange Square in Central are being marketed for new tenants, according to the people, who asked not be named because they're not authorized to speak publicly.
HNA has sold more than $17 billion of assets this year to whittle down one of China's largest debt piles. It's jettisoned everything from its stake in Hilton Worldwide Holdings Inc. to undeveloped land near Hong Kong's former airport. The embattled company is also said to be seeking a buyer for its container-leasing business Seaco, and planning to exit its entire holding in Deutsche Bank AG.
HNA signed a nine-year lease that started in June and was due to run through May 2027, documents lodged with the Land Registry show. While the lease began some three months ago, HNA Group didn't move into the building, owned by Hongkong Land Holdings Ltd., or fit out the space, the people said.
A spokesperson for Hongkong Land said via email that the company doesn't comment on speculation regarding its tenants or individual leases. A spokesman at HNA declined to comment.
Hainan-based HNA was said to be in talks to pay HK$140 per square foot for the 88,000-square-foot space, or more than HK$12 million ($1.5 million) a month in rent, the Hong Kong Economic Times reported in February 2017. Not taking up the space may therefore save the cash-strapped company about HK$144 million a year. The average monthly rent in Central is about HK$136 per square foot, according to Colliers International Group Inc.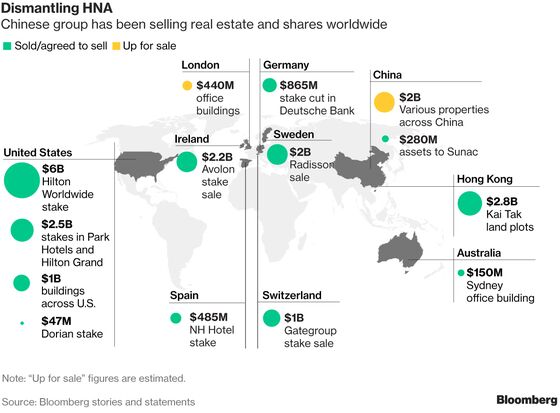 Hong Kong's Central district is the world's most-expensive office market, with an annual occupancy cost of $307 per square foot, topping London's West End and Beijing's Finance Street, according to CBRE Group Inc.
The vacant floors will be taken up relatively quickly given the high demand for office space in Central, according to David Wood, director of office services at Colliers International Inc.
"There are still a number of mainland firms looking to consolidate operations," Wood said. "A lot of tenants in Hongkong Land's portfolio looking for expansion space have struggled to find it because the vacancy rate is so tight."