Here's the Asia Stocks Verdict: Bulls Are Reluctant to Run
(Bloomberg) -- Looking at the market on Friday, one thing was clear: it takes time to get the bulls running.
Yes, Chinese and Hong Kong shares rallied after their mid-day breaks, but it took a whopping four hours for that to happen after China propped up the market earlier on Friday. Even so, some investors are worried that the strategy won't be enough to restore confidence. The fact of the matter is, a 2 percent to 3 percent climb on Friday won't remove China's title as the world's worst stock market. So equity bulls, what to do in the China shop?
The bounce has certainly pulled other Asian markets up with the mainland rally (Shenzhen stocks climbed 2.6 percent) in afternoon trading, but the MSCI Asia Pacific Index was still down 0.2 percent as of 5 p.m. in Hong Kong after dropping as much as 1 percent earlier. Japanese shares fell for a second day, headed for their worst monthly performance since June 2016.
Asia now boasts the lowest stock valuations since February 2016 -- shares in the MSCI Asia Pacific Index trade at 11.7 times estimated earnings for the next year.
Here are some superlatives for the end of the week:
The MSCI Asia Pacific Index has gained or lost more than 0.5 percent almost every single day this month, putting it on track to match a level of daily swings last seen in June 2012.
Chinese stocks had their deepest equity sell-off since 2015 (though it looks like the nation team is finally back in the picture).
A measure indicating the strength of stock buying and selling for the S&P BSE Sensex Index has reached levels not seen since the height of the global financial crisis in October 2008.
Aside from the Sensex and New Zealand's equity benchmark, every major market in Asia is down for the year.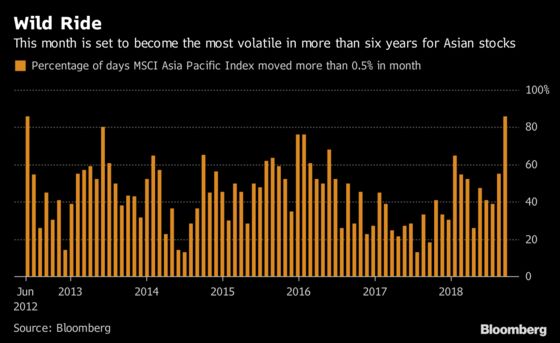 A quick recap of what happened in China Friday:
The heads of the central bank, banking and insurance regulator and securities regulator all issued statements voicing their support for the market. They stopped short of promising direct intervention.
China's economic growth slowed more than expected in the third quarter and industrial output rose 5.8 percent, missing the forecast of 6 percent. Retail sales held up at 9.2 percent versus the forecast of 9 percent.
China has conditions to keep the economy stable, National Bureau of Statistics's Mao said.
PBOC Governor Yi Gang said China will support financing to non-state-backed firms. The nation's macro leverage ratio has stabilized and its growth potential is extremely strong

Guo Shuqing said recent abnormal fluctuations in China's financial markets doesn't reflect the country's economic fundamentals.
Over in Japan, the Topix index fell for a third week, following declines in the S&P 500 Index amid a brewing conflict between the U.S. and Saudi Arabia, concerns over the U.S.-China trade war's impact on economic growth and the start of the earnings season.
India came back online today after a holiday, with the Sensex falling as much as 1.8 percent as investors got a chance to react to earnings results from companies that reported after the close on Wednesday: Reliance Industries Ltd. posted a slight miss in profits and the firm's London-traded GDRs fell more than 2 percent each on Wednesday and Thursday.
One thing worth pointing out is that tech stocks aren't reacting in a big way to Taiwan Semiconductor Manufacturing Co.'s lower-than-expected sales outlook. The stock plunged as much as 2.8 percent but almost completely erased the decline as brokers remained upbeat.
Here are some notable and/or quirky moves out of Asia:
Luxury Faces Double Blow as South Korean Airline Restricts Bags
Credit Saison, Marui drop as Japan mulls lower credit-card fees
Japan's Topix index down 0.7%; Nikkei 225 down 0.6%
Hong Kong's Hang Seng Index up 0.4%; Hang Seng China Enterprises up 0.8%; Shanghai Composite up 2.6%
Taiwan's Taiex index down 0.3%
South Korea's Kospi index up 0.4%; Kospi 200 up 0.4%
Australia's S&P/ASX 200 little changed; New Zealand's S&P/NZX 50 down 1.2%
India's S&P BSE Sensex Index down 1.3%; NSE Nifty 50 down 1.4%
Singapore's Straits Times Index down 0.3%; Malaysia's KLCI down 0.3%; Philippine Stock Exchange up 0.1%; Jakarta Composite down 0.1%; Thailand's SET down 0.8%; Vietnam's VN Index down 0.5%