The Developers to Watch If China Hits Major Credit Turmoil
(Bloomberg) -- Pockets of trouble in credit markets can originate in the most unlikely of spots, and that's particularly true in China.
From freezing Harbin in the north to tropical Hainan in the south, developers in Asia's biggest economy have gorged on debt over the past decade and now owe global bond investors $114 billion, data compiled by Bloomberg show. With demand in some rural regions now cooling and authorities narrowing funding options, the credit shakeout that bears have been predicting for years could be at hand.
For now, most analysts don't think a wave of big defaults is likely, in part because the government would quickly move to prop up the industry to ensure financial stability. Yet the investor unease is clearly reflected in rising bond yields.
"The financing landscape is the most unfavorable for years," S&P Global Ratings analysts lead by Christopher Yip said in a Nov. 6 report. "Weaker players with poor sales prospects and passive financial planning may encounter liquidity shortfalls."
To find out which Chinese developers are flashing the biggest warning signs, Bloomberg looked at a range of metrics, from short-term liquidity to sales. Four out of the five companies that regularly featured at or near the bottom of the rankings were also highlighted by S&P as having potential liquidity issues.
The companies are China Oceanwide Holdings Ltd., Guorui Properties Ltd., Sunshine 100 China Holdings Ltd., Guangzhou R&F Properties Co. and Tahoe Group Co. Representatives from the first four didn't immediately respond to requests for comment. An official at Tahoe noted that operating cash flow had turned positive in the third quarter.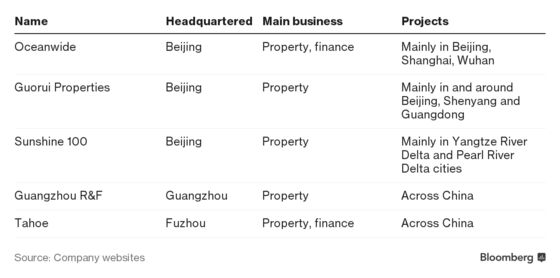 This ratio measures ability to pay off current liabilities using only cash and cash equivalents.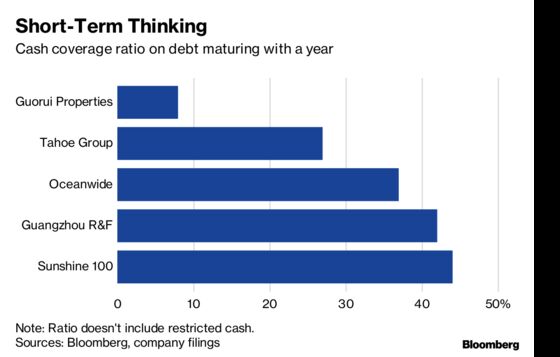 Used to determine how easily a firm can pay interest on outstanding debt. Generally, an interest coverage ratio of at least 2 is considered the minimum level desirable for a company with solid, consistent revenue.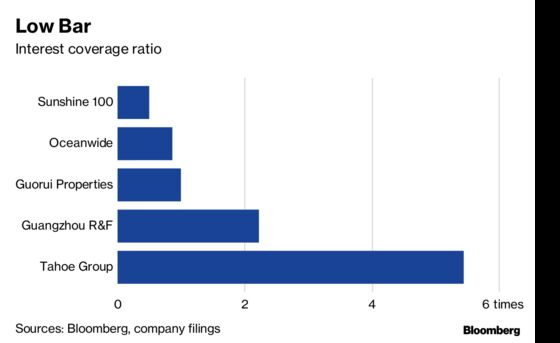 One of the most widely used metrics to assess a company's risk profile. A high ratio can be an indicator of longer-term difficulties to support the debt load.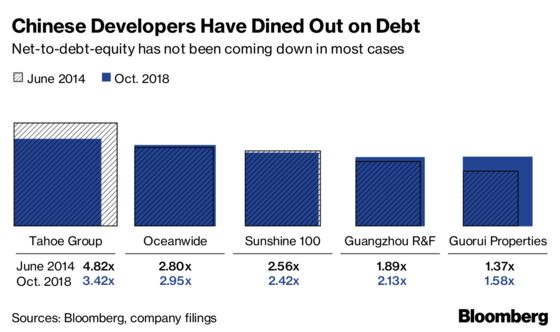 Measures a company's ability to generate cash from its main operating business. Consistently weak cash flows means more reliance on new debt to refinance bond maturities.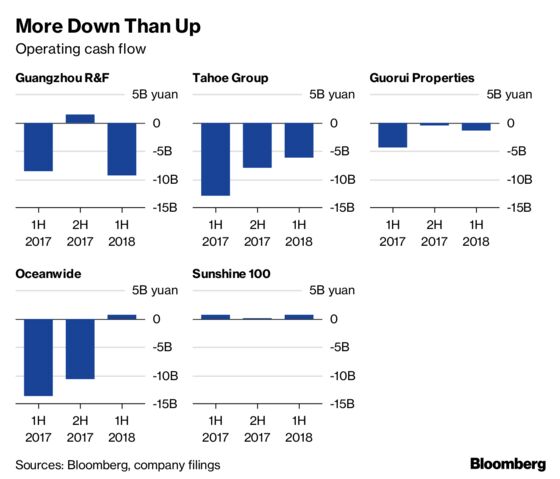 October is typically a strong month for developers' sales (it includes the Golden Week holiday, during which buying homes is popular), so any weakness can be a red flag -- especially for firms with weak liquidity.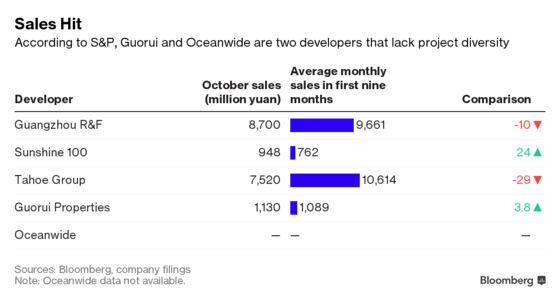 All five developers also have U.S.-dollar denominated bonds outstanding. All but one of them have seen yields climb faster than the industry average this year.