Gree Electric Parent Plans to Sell $6.4 Billion Stake
(Bloomberg) -- A plan by the state-owned controlling shareholder of Gree Electric Appliances Inc. to sell almost all of its stake in the Chinese air-conditioner and refrigerator giant should boost the valuation of the Shenzhen-listed company, analysts say.
Gree Electric rose by the 10 percent daily limit on Tuesday after its largest shareholder said that it was considering selling a 15 percent stake in the Zhuhai-based company in a deal that could be worth up to 43 billion yuan ($6.4 billion).
The company did not identify the buyer of the stake. Brokerages including Citi say the plan is in line with the current state sector reform policy to let state-owned enterprises gradually exit highly competitive industries like appliance manufacturing.
"We believe this SOE reform should enhance Gree's management incentive and operating efficiency, and maintain 'Buy' on the stock," Citi said in a research note to clients. "Introducing strategic investors could improve Gree's competitive advantage and operating efficiency."
Citi's view is echoed by CICC, which said in a note Tuesday that it had raised its target price on Gree by 16.5 percent to 68.7 yuan as it believes a sale to private investors should narrow its valuation gap with privately-controlled rival Midea Group Co., whose management pays more attention to company share prices and is more generous in terms of dividend payment and stock repurchase.
Gree Electric is trading at a blended forward price/earnings ratio of 10.9 times, 40 percent cheaper than the 15.3 multiple for Midea, according to data compiled by Bloomberg.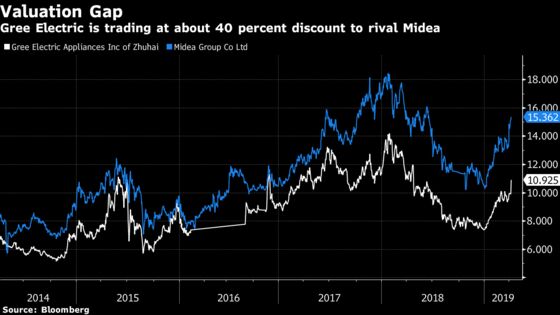 Controlling shareholder Gree Group held 18.22 percent of Gree Electric as of the end of September, according to Bloomberg-compiled data. The stake will be sold at a price no less than the average stock price of the last 30 trading days, Gree Electric said in a statement to the Shenzhen stock exchange on Monday. At its pre-announcement valuation of 284 billion yuan, the stake would be worth 42.6 billion yuan.
Gree Electric has about 40 percent of the domestic market for air conditioners, according to a research report by China Galaxy International in July last year. Gree's main competitors are Midea Group Co. and Qingdao Haier Co.
Amid fierce competition in the home appliance sector with Midea and Qingdao Haier Co., the newly-privatized firm could introduce strategic investors and replenish capital from share sales, analysts said.
Shares of Midea and Gree have gained 45-49 percent this year, outperforming a 35 percent rally in the broader A-share market as investor confidence is bolstered by a recovery in the Chinese property market.
As Gree Group is controlled by the local government, the deal will require approval from the state assets regulator and the proposal is still being studied, Gree said in the statement filed Monday.