Taiwan GDP Beats Estimates as Exports Outweigh Covid Impact
(Bloomberg) -- Taiwan's economy grew faster than expected in the second quarter, fueled by strong export demand that offset the impact of island-wide Covid-19 restrictions.
Gross domestic product grew 7.47% in the second quarter from a year earlier, official data released Friday show, well above the median estimate of 6.65% in a Bloomberg survey of economists.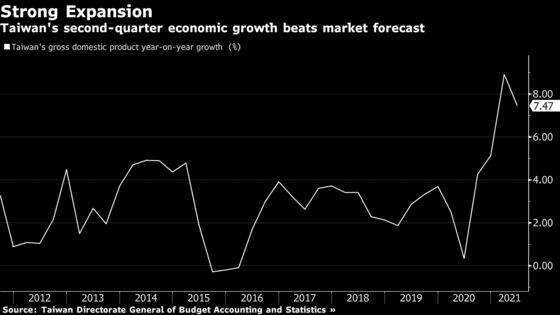 Friday's numbers and strong second-quarter results from Taiwan's biggest exporters underscore the island's two-speed economy: While many of its major technology and shipping companies are seeing near-record revenues, the service sector is struggling to overcome Covid restrictions.
Taiwan's 10 biggest companies that make a majority of their revenue from overseas, including technology, shipping and plastics companies, saw strong gains in revenue last quarter. Chipmaker MediaTek Inc. reported an 86% jump in sales Tuesday, while shipping company Evergreen Marine is likely to see sales surge 129%, according to the median estimate in a Bloomberg survey of analysts.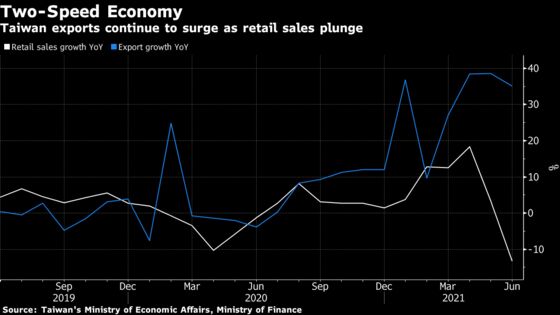 Friday's better-than-expected data may prompt the government to upgrade its 2021 growth forecast from the current 5.46%. If the economy expands in line with the government's most recent estimates in the second half of the year, full-year growth will be 5.58%, Wu Pei-hsuan, a senior official at the Cabinet's statistics department, said at a briefing Friday.
"Exports were stronger than we had forecast in June and the main reason for that was because the Covid outbreak did not have a significant impact on manufacturing," Wu said.
The continued robust growth comes despite the drag from domestic consumption after the government imposed a soft lockdown in May to curtail Taiwan's first major Covid-19 outbreak.
The retail and hospitality sectors have borne the brunt after the government shut down all entertainment and recreation venues and barred in-house dining. That led to the island's highest unemployment rate in more than a decade and record numbers of workers on unpaid leave.
Officials have begun to loosen restrictions as the number of daily cases has fallen in recent weeks. But while health authorities have eased the rules for restaurants, local governments in Taipei and the surrounding area continue to restrict them to takeout services.
However, the overall impact of the outbreak has not been very significant, Societe General SA economist Michelle Lam wrote via message Friday.
"The outlook for the second half hinges on whether consumption can pick up immediately, supported by easing restrictions and the possibility of consumption coupons issued by the government, and whether exports can continue to grow strongly," she said.