Currency Traders Place Cheap Bet That Trump and Xi Could Reach a Truce
(Bloomberg) -- Currency traders aren't ruling out the prospect that the highly anticipated meeting between U.S. President Donald Trump and Chinese leader Xi Jinping this weekend will deliver a trade truce.
One-week dollar-yuan risk reversals touched the lowest level since June on Monday, signaling that markets are positioning for the possibility of a stronger Chinese currency in the aftermath of the Trump-Xi meeting at the Group-of-20 summit. The yuan has slumped about 6 percent against the greenback this year as trade friction between the two countries escalated, pushing the onshore yuan toward the key mark of 7 per dollar.
With one-week implied volatility in the pair well below 2018 highs, purchasing yuan calls offers an inexpensive way to wager that the leaders will find common ground, according to Jefferies LLC.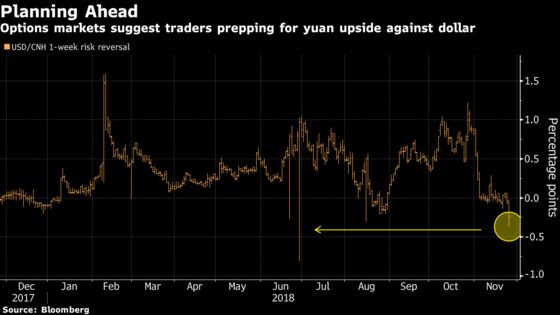 "It's a relatively cheap bet because yuan vols are not that high," said Brad Bechtel, head of foreign-exchange at Jefferies. "Even just a sign that they are on a path to some sort of agreement will likely be read as positive initially."
The meeting comes before the U.S. is scheduled to step up tariffs on $200 billion worth of Chinese goods as of the start of 2019, to 25 percent from 10 percent currently. Trump expects to move ahead with boosting the levies to 25 percent, he said in an interview with the Wall Street Journal. The offshore yuan weakened briefly on the WSJ report, before recovering to trade 0.1 percent higher against the greenback.
Implied volatility is also on the rise in the Australian dollar, with the one-week tenor at the highest level since February against the dollar on a closing basis. Signs of progress out of the Trump-Xi meeting would benefit the currency, given the close ties between the Australian and Chinese economies, according to Bechtel.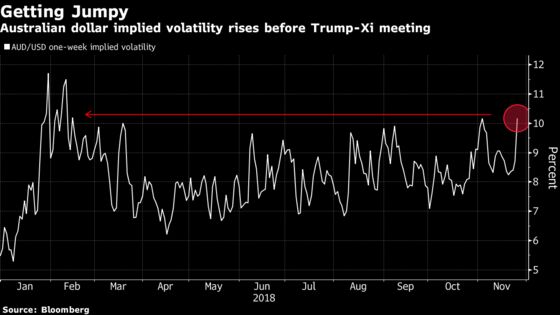 "The Aussie dollar is ground zero for Trump-Xi and trade in my opinion," Bechtel said. "Vol remains elevated, so that's a sign that markets are still hedging ahead of the event."
A gauge of the Aussie's one-week implied volatility rose for a fifth day on Tuesday, on course for the longest run of gains since April.