Fund Companies Ask Hong Kong to Relax IPO Investment Rules
(Bloomberg) -- Global asset managers are lobbying Hong Kong to relax rules that forbid existing shareholders to subscribe to initial public offerings.
The Asia Securities Industry and Financial Markets Association and Hong Kong Investment Funds Association want regulators to allow so-called double-dipping, which is permitted in markets including the U.S. but requires special permission in the city. Asifma began pushing for the change last year, after authorities exempted biotechnology companies from the directives.
Pushing for double-dipping has aligned fund managers with the technology sector, two groups that butted heads over a 2018 rule change that gave tech founders extra voting rights at the expense of other shareholders. Amid a difficult and volatile market, companies are looking for ways to support demand including having early stage investors acquire additional stock when a firm goes public.
Hong Kong's rules were designed to ensure the broader market had fair access to IPO shares. They bar significant shareholders buying additional stock during the IPO subscription period. It's not just early investors who are affected: fund companies are barred from applying for IPO shares when one unit of their firm is already a shareholder.
"Officials need to recognize that large fund managers that have multiple funds, multiple client accounts, should not be subject to the double-dipping rule," said Eugenie Shen, head of asset management at Asifma. The group, whose members include BlackRock Inc. and the asset management units of Goldman Sachs Group Inc. and HSBC Holdings Plc, said regulatory officials are looking at the rules, though have given no indication if changes would be made.
Sally Wong, chief executive of HKIFA, said her group's members also supported a rule change.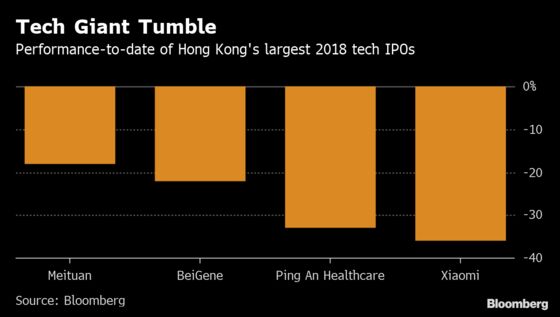 Spokesmen for Hong Kong Exchanges & Clearing Ltd. and the Securities and Futures Commission declined to comment.
The change is one of many sought by international investors as Hong Kong's bourse becomes more tightly entwined with Chinese equities. Banks from Citigroup Inc. to Morgan Stanley want HKEX to help ensure easier access to trade one of the world's largest equities markets including changes to make short selling of China listed stocks more accessible.
Maoyan Entertainment threatened to walk away from Hong Kong if it couldn't get permission for investor Tencent Holdings Ltd. to buy more shares in its IPO, people familiar with the matter have said. The firm went ahead with the share offer even after a waiver application was rebuffed by the stock exchange's listing committee. Wuxi AppTec Co., a contract medical researcher, also sought permission for double-dipping from Hillhouse Capital, but was rejected.