Foreigners Splash Out Record $2.5 Billion on China Stocks
(Bloomberg) -- Foreigners didn't wait long to set a new record for China stock buying.
Overseas investors heartened by optimism China and the U.S. can overcome their trade dispute bought 17.4 billion yuan ($2.5 billion) of China stocks via trading links with Hong Kong on Friday. That was more than double the record set a day earlier and erased all of October's net selling, according to data compiled by Bloomberg.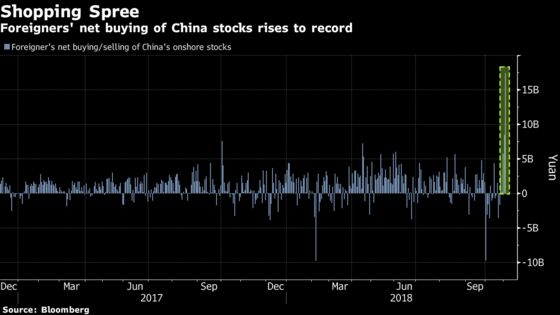 Gains by China and Hong Kong stocks picked up in the afternoon after news President Donald Trump wants to reach a deal on trade with Chinese President Xi Jinping at this month's Group of 20 nations summit. While the Shanghai Composite rose 2.7 percent on Friday, it is still down 19 percent this year amid worry over the trade dispute, China's slowing economy and a weakening yuan.
"Investors believe A shares will fare better than their Hong Kong counterparts after China's policies supportive for the economy and capital market, so we're seeing a big influx," said Ken Chen, Shanghai-based analyst with KGI Securities Co. "That shows recovering sentiment among foreign investors on A shares."
China opened its first exchange link with Hong Kong in late 2014, allowing foreign investors unprecedented access to the nation's stock market. The Shanghai-Hong Kong link was followed by a similar tie-up with Shenzhen two years later. China this year raised the daily quotas for stock connects.