China Challenges Foreign Firms to a Race to Win Its Consumers
(Bloomberg) -- For Hironobu Taketomi, selling lower-tech goods like photographic paper in China has long been a fight against bureaucratic barriers. Selling high-tech medical devices is a fight against time.
The Fujifilm China CEO represents one of about 3,000 foreign companies pitching their wares at this week's China International Import Expo in Shanghai. For him as for others, he's facing rising competition from domestic players even in the advanced sectors that local firms once could only hope of entering.
"Chinese newcomers take time to increase level of their technology, so we seize market share while there's time -- that's the strategy," he said, adding that the company's previous photography business had been hampered by an anti-dumping tariff that he claimed unfairly protected a local rival.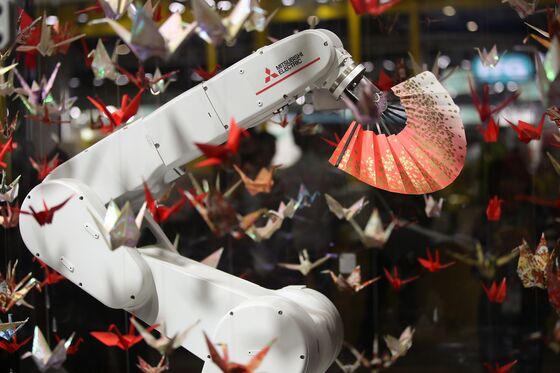 Read our reporters' notebooks from the China International Import Expo
The perception that China restricts access to its domestic market is one of the things President Xi Jinping addressed in his speech opening the expo this week, pledging further liberalization of market access, though he was vague on both detail and timing. Amid the pressure of the trade war with the U.S., Xi is indeed opening the world's largest consumer market further, but doing so at the same time as he preaches self-reliance in manufacturing and pushes hard for industrial upgrading.
Read More on the Made in China 2025 Strategy
China's push to create national champions 

'Made in China 2025' Frames Trump's Trade Threats: 

QuickTake 

Bloomberg Economics analysis of which countries will lose from "Made in China 2025"

Xi Jinping is doubling down on tech amid Trump's pressure
For now, that leaves foreign firms tempted by the mighty profits associated with China's rising middle class but wary that they'll eventually be supplanted. Whereas two decades ago the top-selling passenger car in China was a version of Volkswagen AG's boxy Santana sedan, the local market now for the electric vehicles of the future is dominated by firms like Shenzhen-based BYD Co. and BAIC Motor Co. Xi's strategy is to replicate that much more widely.
View from the New Economy Forum
"Foreign technologies become Chinese technologies through an indigenization process" that many CEOs find "grossly unfair," former U.S. Treasury Secretary Henry Paulson said in Singapore at a Bloomberg forum. 
For more coverage of the forum, click here
At the trade fair, a common theme among exhibitors is that everything in China is happening with great speed. As consumers expect rapid improvements in products from year to year, domestic firms are ready to meet that.
Jisu Lim, head of China sales for South Korea's Nuc Electronics Co., which manufactures premium juice makers, says his company's target is to take 50 percent of the high-end market. That segment is still receptive to foreign brands, but lower down there's less space.
"Competition from domestic players is very big," Lim said at the trade fair. "They are making cheaper products and their pace of rolling out new products is very quick."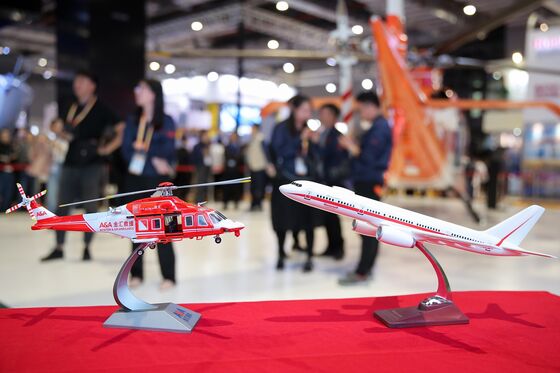 That consumer pressure is also seen by Allen Hollingshead, vice president for sales at Newark, California-based Neato Robotics Inc. Though in his segment, making high-end robotic vacuum cleaners, there may be a little more time before local players catch up.
"I would worry about a Chinese company maybe copying the design, but making the product so that you could do everything that it does, it's really hard for us to do it, so if they could do it, I would be very impressed," he says.
If foreign consumer brands find their space is increasingly limited to the top-end of the market, there's less room for Xi Jinping's new-found import push to address the issue that helped propel Donald Trump to the White House, namely the trade balance. Indeed, Xi's goals are modest.
On Monday, he pledged that China would import $30 trillion of goods and $10 trillion of services from the rest of the world over the next 15 years. That's actually little more than the current annual average, suggesting a relatively weaker role for imports as the economy as a whole gets bigger.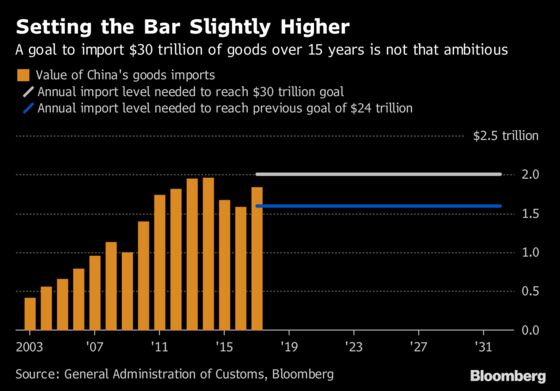 The industrial upgrade that will help domestic players push out foreign firms is happening right now, even as the economy slows and confidence is dented by the prospect of a further escalation of the trade war with the U.S.
While growth in manufacturing production decelerated to 6.7 percent in the nine months through September over the same period a year earlier, growth of fixed-asset investment spending by manufacturers jumped to 8.7 percent. It's accelerated in each of the last six months.
Fujifilm's Taketomi says that in the medical devices field where his company competes in quality, domestic rivals are springing up that enjoy government support ranging from R&D funding to marketing.
In the end, a state-led push to upgrade Chinese manufacturing may end up hurting both foreign firms and domestic consumers, according to Derek Scissors, chief economist at the China Beige Book in Washington.
"China's track record says it can successfully develop the ability to compete in new areas," he says. That will however "distort and ultimately restrict competition, harming Chinese consumers. Outside of the most dynamic sectors, though, multinationals in advanced manufacturing should anticipate lower market shares and narrower profit margins due to new Chinese competitors benefiting from economies of scale and cheap financing."