Ford Pins China Revival on New Cars, Electric Vehicle Venture
(Bloomberg) -- Ford Motor Co. is counting on the SUV -- and a new electric car tie-up -- to turn around its flagging fortunes in the world's largest car market.
The Territory model will be the first of several SUVs Ford is rolling out in China to win customers who are passing on the company's aging lineup amid a trade war that has further dented demand by boosting prices of imported models. Ford also plans to launch a range of electric small cars in China with Anhui Zotye Automobile Co. to tap the growing demand for new-energy vehicles, Peter Fleet, Ford's president of Asia Pacific, said on a conference call Tuesday.
The efforts are key to turn around sagging sales for the Dearborn, Michigan-based carmaker in China, where sputtering economic growth and a tit-for-tat tariff war with the U.S. are threatening to push the car market into its first contraction since at least the 1990s. Ford, Volkswagen AG and other carmakers are still pouring in billions of dollars to make electric cars in China as policy initiatives encourage more consumers to adopt the pollution-free vehicles.
Approval for Ford's third partnership in the country is expected by year-end, Fleet said. The move will allow the carmaker to gain enough new-energy vehicle credits required by the government under a system that will take effect next year.
"We have a plan to achieve compliance in China," Fleet said on the call.
The Territory SUV, developed by Ford and its local partner Jiangling Motors Corp., is aimed at capturing China's fastest-growing segment in lower-tier cities such as Qingdao and Shandong, where the model was introduced.
"Our onslaught of new vehicles has begun," Fleet said in a statement. "Territory is just the beginning of more great things to come."
Ford Chief Executive Officer Jim Hackett said in July that he was "extremely dissatisfied" with his company's performance in China after losing $483 million in the second quarter. Hackett blamed the losses mostly on an aging model line, which lacks enough high-profit SUVs that are increasingly becoming popular with Chinese consumers.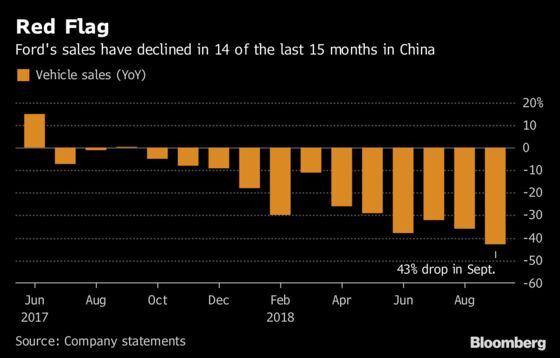 Ford has 16 new models coming in China, and 60 percent of its lineup will be new or refreshed by the end of next year, according to Jim Farley, president of global markets. Still, he cautioned that it may take until 2020 before the updated range of SUVs starts to make a difference to the bottom line.
Ford hasn't maintained a fresh enough product lineup for China and those "missteps," together with an uncompetitive cost structure, have resulted in a significant deterioration in the company's second-quarter results, Farley has said.
The slowdown in China -- where automakers have poured in billions of dollars in the past 20 years to bulk up factories -- has put the industry in a precarious position. The trade war has already prompted luxury-car makers BMW AG and Daimler AG to warn about lower profits while Chinese consumers staying away from showrooms forced Jaguar Land Rover to shut a factory temporarily.
Last month, Ford said it would cancel plans to import a new crossover model from a plant in China after the tariffs undermined the business case for bringing the vehicle to the U.S. market.