Some Bondholders Yet to Be Paid, Stocks Slide: Evergrande Update
(Bloomberg) -- China Evergrande Group passed another debt deadline with no sign of payment, after coupons came due Tuesday on two dollar notes, both with a 30-day grace period before a default can be declared. 
Evergrande has been turning its attention to delivering homes and paying workers even as debt payments loom. The embattled developer was labeled a defaulter by international ratings firms for the first time earlier this month after it failed to repay liabilities on time. Still, the paying agent and transfer agent for the latest two bonds is Citibank London Branch, according to a prospectus seen by Bloomberg News. Tuesday was a public holiday in the U.K.
A Bloomberg gauge tracking shares of Chinese property companies dropped as much as 2.2% on Wednesday, set for its biggest decline since Dec. 20. China Aoyuan Group Ltd. fell as much as 10% after getting a summons in a loan case. China Evergrande gave up a gain of as much as 7.4% and was unchanged as of 3 p.m. in Hong Kong. Its shares have slumped 89% this year.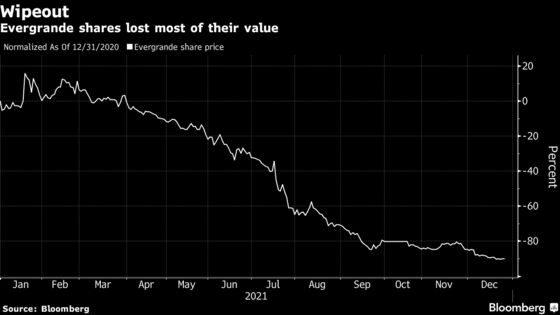 Yango's Parent Is Newest China Defaulter as Property Woes Deepen
Some Evergrande Bondholders Yet To Receive Coupons (12 p.m. ET)
Some holders of two Evergrande dollar bonds with coupons due Tuesday said they had yet to receive payment, after the stressed developer failed to meet interest obligations on other offshore debt earlier this month.
Evergrande owes $204.8 million on an 8.75% note and $50.4 million on a 7.5% dollar bond. The company has a 30-day grace period to deliver the payments before a default can be declared, according to a bond issuance document seen by Bloomberg News. The company didn't immediately respond to a request for comment sent outside of normal business hours.
Centaline Stops Marketing H.K. Project (5:56 p.m. HK)
Centaline Property Agency will immediately stop marketing and selling Evergrande's Emerald Bay residential project in Hong Kong while it seeks commissions owed by the Chinese developer, according to a statement.
The property agency is seeking HK$113 million ($14.5 million) from Evergrande for commissions related to the sale of 520 apartments.
China Developers' Stock Gauge Slides Most in More Than a Week (2:48 p.m. HK)
The measure was headed for its biggest slide since Dec. 20. China Aoyuan and China South City Holdings Ltd., which fell as much as 7.4%, were among biggest decliners of the index. China Evergrande swung between gains and losses as the debt deadline passed. 
Guangzhou R&F Sets Up Escrow Account for Dollar-Bond Extension (11:43 a.m. HK) 
Guangzhou R&F Properties has opened an escrow account with Citibank to help facilitate the settlement of its proposed debt tender offer, it says in an exchange filing. The company expects to earmark funds of about $300 million, comprising funds in the escrow account and cash on hand, before the settlement date. 
Guangzhou Times 5.1% Yuan Bonds Due 2025 Halted After Surge (9:54 a.m. HK)
Trading of the bond was halted in Shanghai at 9:30 a.m. after "unusual fluctuations," the Shanghai stock exchange said in a statement. The note rose 24.6% to 72 yuan before the trading halt, according to prices compiled by Bloomberg. The bonds resumed trading at 10 a.m.
China South City Makes $18.8m Coupon Payment on Dollar Bond (9:43 a.m. HK)
China South City has paid the coupon on its 10.875% dollar bond due June 2022, an investor relations official at the developer said Wednesday. The firms has wired the $18.8 million interest payment to the note's trustee, said the official, adding the actual coupon date is Wednesday due to public holidays.
The original date was Sunday, according to Bloomberg-compiled data. China South City has three dollar bonds totaling $970.5 million that will mature in 2022, according to data compiled by Bloomberg.
Chinese Firms Slowed Investment, Unwilling to Borrow: Beige Book (7 a.m. HK)
Chinese companies cut investment and remained reluctant to borrow in the fourth quarter, with small business' financing costs soaring despite favorable policies, China Beige Book International said in a report released Wednesday, while services growth slowed "across the board." An easier credit environment for the property industry in November reversed this month, the report said.
In addition, it became more expensive for smaller firms to borrow, with the gap between the interest rates on loans for small and large companies surging to 2.73 percentage points, the highest level since the survey began in 2012, according to the report.
That's despite a series of policies aimed at helping smaller companies, and the central bank guiding overall credit growth to pick up in November to counter a slowing economy dragged down by a property downturn and sporadic Covid-19 outbreaks. 
China's Stable Economy Clouded by Property and Export Outlook (5 a.m. HK)
China's economy expanded at a moderate pace in the final month of the year, supported by better business sentiment, easing factory inflation pressures and faster car sales. However the slumping property sector and slowing external demand are clouding the outlook for the world's second-largest economy. 
That's the outlook from Bloomberg's aggregate index of eight early indicators for this month. The overall number stayed unchanged in December, indicating the economy is still improving at a stable pace, but there are mixed signals from some of the real-time economic data.