Flood Impact on China's Growth to be Short-Lived, Economists Say
(Bloomberg) -- Torrential rains in much of China will hurt economic output and drive up consumer prices in the near term, but the impact will be short-lived, according to economists.
The flood in areas along the Yangtze River has forced millions of people to leave their homes and could impact agricultural and manufacturing output, as well as constrain consumption and investment demand, according to economists from Nomura Holdings Inc. and Huachuang Securities Co. The rains will also send pork and vegetable prices even higher, keeping consumer inflation at an elevated level for another couple of months.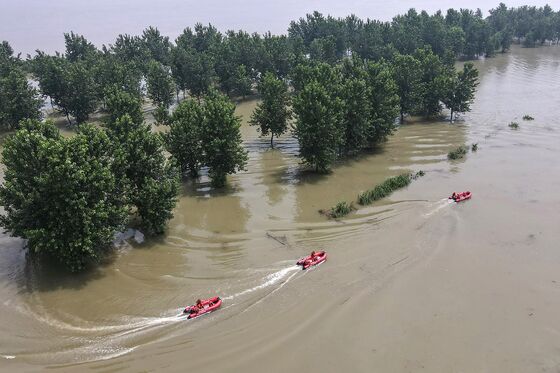 Heavy rain since July has damaged crops, destroyed thousands of homes and affected over 20 million people across central China, including in Hubei province, where the coronavirus first broke out. The disruption to activity adds to the damage the economy already suffered from the pandemic and subsequent lockdowns.
Direct economic losses from the worst flooding in decades are estimated at 64 billion yuan ($9 billion), the Ministry of Emergency Management said this week, according to Xinhua News. .
"The economic impact of the rains will mostly be seen in July's economic data" with fixed-asset investment growth likely dropping to 3%-4% compared with July 2019, Zhang Yu, chief macro analyst at Huachuang Securities Co. in Beijing, wrote in a report this week. "The impact on investment will be larger than on headline gross domestic product growth, industrial output and consumption."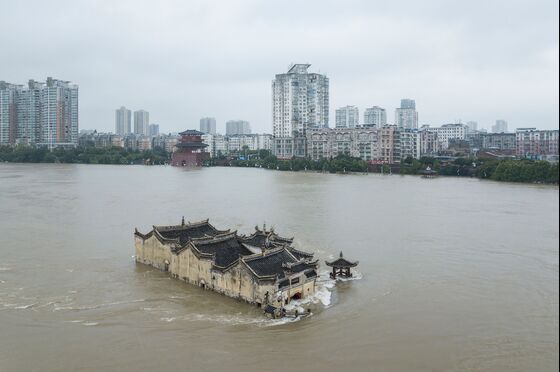 Nomura economist Lu Ting said the impact will be "limited," yet some areas along the Yangtze River could be severely affected. He said the flood will push up consumer inflation by around 0.6 percentage point in July and August, but the impact could reverse quickly once the production of pork and vegetable is restored.
"Even though CPI inflation could be pushed up temporarily by the flooding in the near term, we believe it will not be a constraint for the PBOC's policy easing," he said.
Food inflation was already rising in June, partly due to rising pork prices. The consumer cost of pork was almost 82% higher from a year earlier due to slower hog production, strict epidemic prevention measures and falling imports, the statistics bureau said earlier this month.