China Junk Bonds Not Stocks Is Fidelity's Trade War Strategy
(Bloomberg) -- A top-performing global fund manager reaped the rewards of piling into Chinese securities when many of his peers jumped ship last year. Now George Efstathopoulos is ready to buy more, with junk bonds over equities his conviction for 2019.
"For every let's say 10 units of risk, nine is going to the high-yield market," said Efstathopoulos, a portfolio manager at Fidelity International, who co-manages several strategies including a multi-asset fund that beat 99 percent of peers over the last year. "With equities there has to be a catalyst or you need the market to agree with you."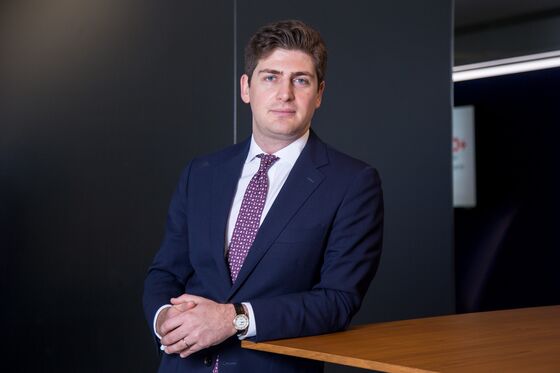 Efstathopoulos started snapping up dollar-denominated Asia high-yield corporate bonds -- a big component of which was Chinese credit -- in July, just as U.S. tariffs on $34 billion of China goods took effect. The logic: fundamentals remained solid and assets cheap, penalized by escalating trade tensions and China's deleveraging efforts.
So far his bets have paid off. Demand for Asian corporate debt surged with easing concerns over the trade war, liquidity injections in China and prospects of slowing U.S. Federal Reserve rate hikes. Chinese junk bonds have outperformed their emerging market counterparts by over 2 percentage points since their July lows, according to ICE Bank of America Merrill Lynch indexes.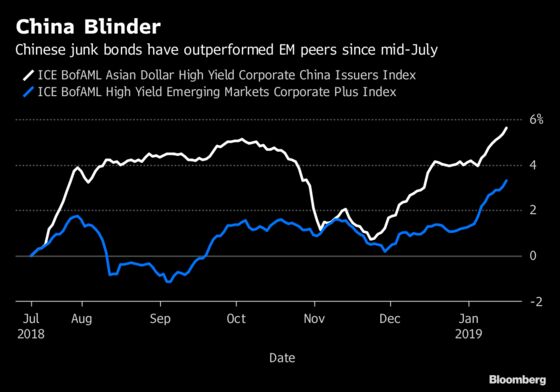 Asian junk bonds now make up about 10 percent of Fidelity's flagship Global Multi-Asset Income Strategy fund, and Efstathopoulos is ready to ratchet up holdings to 15 percent.
"If we start seeing the trade war improving, that'll be a catalyst to add more," the fund manager said at an interview in Singapore last week. Also, "if we start seeing China addressing in a more tangible way the liquidity squeeze -- easing in a more meaningful way."
Efstathopoulos prefers Chinese corporate bonds over equities for their better risk-reward ratio.
"With credit, you don't need the market to agree with you -- there's a maturity and either the bonds default, or they don't," he said. "Even if there are some defaults you're getting paid for the risk you're taking."
The Fidelity fund manager is happy to let his winners run. Chinese junk bonds, and the broader Asian high yield space are one of his key convictions this year. Leverage hasn't been this attractive since late 2015 and the average quality of Asian junk debt is a notch better than their U.S. counterparts, he said.
The yield on a gauge of Chinese junk bonds is currently around 10.5 percent, compared with 7 percent for the U.S. equivalent, ICE Bank of America Merrill Lynch data show.
He is also bullish on Chinese government bonds, which make up over two percent of his defensive basket and were the biggest winner last year among 34 sovereign markets tracked by Bloomberg.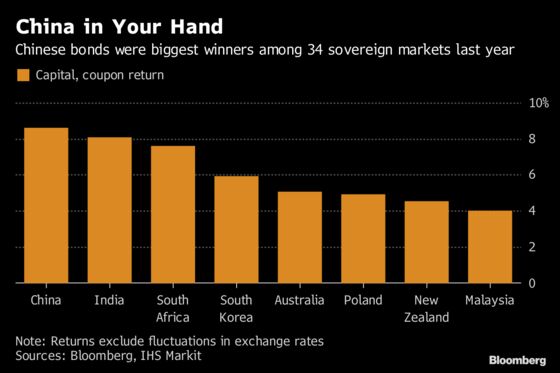 Here are a selection of Efstathopoulos's views on other markets:
I do see one to two hikes in 2019, and then we'll probably see the Fed turning a lot more data dependent. The market has forced the Fed to talk more about balance sheet reduction and it's something we should be watching closely.
I can paint scenarios of a weaker dollar given growth differentials, and U.S. growth is finally coming closer to meeting the rest of the world's. I would expect this should be a headwind for the greenback. Going forward, I see a sideways-moving or weaker dollar, which bodes well for our view for emerging markets.
We've been adding to risk in emerging markets, more so after we saw the correction in oil prices. Indonesia's rupiah has been one of the currencies where we had increased our position. We did that in the early stages of the fourth quarter -- we still have a long position but took some profits there.