Fear of Getting Burnt Fills Hong Kong's $5 Trillion Stock Market
(Bloomberg) -- Traders got a stark reminder of how dangerous it can get when you venture into the darker areas of the world's fourth-largest stock market.
Just two months after a handful of stocks in Hong Kong all slumped within minutes, another cluster had the same fate this week for no apparent reason. Theories ranged from Jiayuan International Group Ltd.'s impending debt repayment, to speculation about a potentially missing executive, as well as the familiar threat of pledged shares. One company actually made the most of it by repurchasing shares at bargain prices.
While those stocks bounced back, a Chinese lender targeted by a short seller sank as much as 41 percent. Small caps have a habit of blindsiding investors in Hong Kong, where concentrated ownership, complex holding structures and exchange links with the mainland are often blamed for wild swings. Shenzhen traders bought Jiayuan shares Thursday, making it the most actively traded stock on the city's link with Hong Kong.
It was a good few days otherwise for Hong Kong's broader market, which is about to clock in a third straight week of gains, the best streak in almost a year.
China's government-bond rally extended into a fifth straight week, the longest winning streak in nine months. The 10-year benchmark yield is flirting with the 3 percent level, helped in part by the abundance of liquidity in the system. The People's Bank of China pumped a net 1.16 trillion yuan ($171 billion) into the financial system this week, including the biggest injection on record, to meet seasonal demand for cash. That's easing pressure on lenders, driving down their borrowing costs without the need to cut official interest rates.
Financial stocks did well again onshore, adding to this month's rally. If the gains hold in January, it will be the best month for the sector in a year.
Chinese stocks are trading at a key support line previously seen just before two of the steepest rallies in history. Read more here.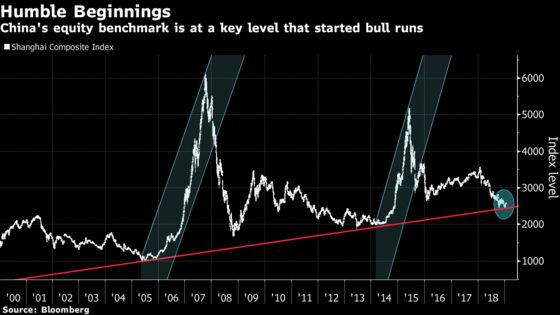 Here's what else caught our eye:
This quant wants to beat China's 147 million day traders.
More Xiaomi Corp. shareholders rush for the exit.
Kangde's bond default puts the spotlight on financial reporting.
The worst isn't yet over for this Apple Inc. supplier.
Thousands of investment bankers are quitting the industry.
China's come down hard on counterfeit products.
Top fund says Chinese bonds will trounce stocks again.
What if the fallout from China's slowdown isn't over?
UBS is bullish on junk property dollar bonds.
Banks can handle an interest-rate cut.
But their urgent want for cash is testing the hybrids market.