Evergrande Slumps as Investors See No Bailout After Huarong
(Bloomberg) -- Don't bet that the bailout of China Huarong Asset Management Co. means anything similar is in the works for China Evergrande Group. 
That's the message from investors who continued to dump the troubled developer's stock and offshore bonds on Thursday, a day after the announcement of a state-led capital injection for Huarong. 
Shares of Evergrande slid 4.8% in Hong Kong trading, the lowest since January 2017. Its 8.25% dollar bond due 2022 fell 2.7 cents to 45.8 cents, on pace for another record low.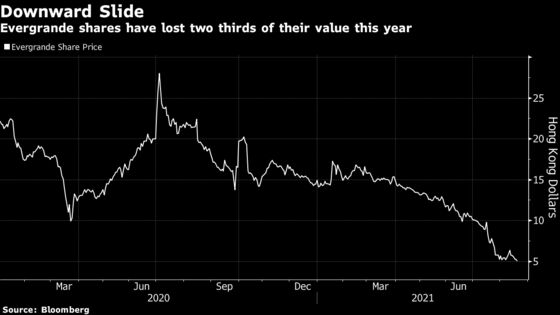 Huarong's bailout was reassuring for investors who went through months of agony guessing just how determined the Chinese government was in combating moral hazard. But even with $300 billion in liabilities that could roil banks, suppliers and home buyers, junk-rated Evergrande is seen as a separate case as authorities crack down on excessive leverage in the property sector. 
Investor concerns grew Thursday evening after Chinese regulators demanded Evergrande resolve its debt risks and refrain from spreading untrue information. People's Bank of China and banking watchdog officials summoned the company's executives, telling them to maintain operations and protect the stability of financial and property markets, according to a joint statement.  
"The Chinese government's stance to prioritize social harmony and equality over corporate profit is becoming increasingly clear," said Anthony Leung, head of fixed income at Metropoly Capital HK. "Evergrande is completely different in the sense that it is the poster child of an industrywide reckless risk-taking culture."
Shares of Evergrande have lost two thirds of their value this year, as the world's most indebted developer sells assets to stave off a cash crunch. The stock's sell-off deepened this week after billionaire founder Hui Ka Yan stepped down as chairman of the conglomerate's main onshore real estate unit.
Curbed by China's "Three Red Lines" that determine whether companies can take on additional debt, Evergrande has also been heavily discounting property projects. The firm reduced its borrowings this year, while delaying payments to some suppliers who started to take their disputes over IOUs public. Some sought asset freezes. Evergrande's bonds were also repeatedly downgraded by ratings companies. 
State-owned Huarong's bailout has "limited implication" for Evergrande because of the former's key role in the financial system, said Thu Ha Chow, a portfolio manager at Loomis Sayles Investments Asia Pte in Singapore. The government needs Huarong to fulfill its function as a bad-debt manager at a time when officials want balance sheets cleaned up, she said.  
"The only read through is that the authorities have been consistent in minimizing systemic risk as far as possible."