Evergrande's Sky-High Coupon Bodes Ill for Smaller Developers
(Bloomberg) -- A move by China Evergrande Group's chairman to buy more than half of its $1.8 billion dollar bond issue is a sign even the country's biggest property companies aren't immune to funding strains. That raises questions on the borrowing ability of their smaller peers.
Despite its chairman's support, Evergrande which was China's second-largest property developer by sales last year, priced one of its dollar bonds at 13.75 percent on Tuesday, the third-highest coupon for an Asian junk bond issued this year, Bloomberg-compiled data show.
"If a developer is heading into the current risk-off market with a weak credit profile, investors are likely to demand higher risk premium to buy their bonds," said Clement Chong, senior credit analyst in Singapore at NN Investment Partners.
Average yields on Asian junk-rated bonds, a majority of which are from Chinese property developers, have climbed to their highest in more than six years in response to rising global interest rates as well as tight funding conditions for Chinese firms. Smaller real estate firms on the mainland like Oceanwide Holdings Co. and Zhenro Properties Group Ltd. sold their notes at 12 percent and 12.5 percent, respectively, in September.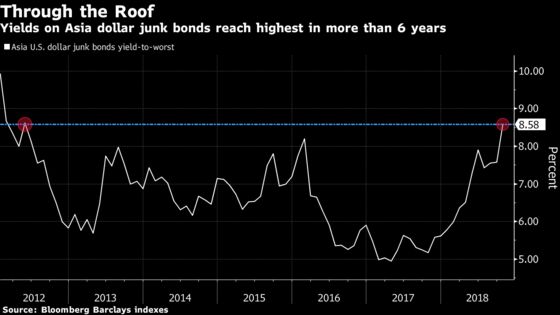 Chinese developers with single B credit ratings or below will find it even harder to come to the offshore bond market after Evergrande, according to Cheong Yin Chin, a senior research analyst at CreditSights in Singapore. Being one of the largest Chinese developers by total asset size, it had to pay up to price new deals, she said.
Evergrande's three-tranche $1.8 billion issue is the company's first dollar bond offering in about 16 months. It sold $565 million two-year tranche at 11 percent; $645 million 4 year non-call two year note at 13 percent and $590 million five-year non-call three bond at 13.75 percent.
The last time Evergrande came to the market was in June last year when it sold $2.3 billion, the biggest offering by a real-estate company from China then.