Evergrande Charts Show a Home Builder Dicing With Danger
(Bloomberg) -- China Evergrande Group had to come back to Earth after last year's stratospheric gains. The question now is exactly how bumpy that re-entry is going to get.
Big challenges loom for the giant developer: a debt burden north of $100 billion, potential restrictions on home pre-sales that are a key source of funding, and diminished room for the share buybacks that have historically been used to prop up Evergrande's stock price.
Billionaire founder Hui Ka Yan this week made an unusual move, buying $1 billion of the company's new $1.8 billion of notes. The purchase shows Hui's support for the firm's development, Guangzhou-based Evergrande told Bloomberg News, adding that the interest rate of the bond is based on market conditions.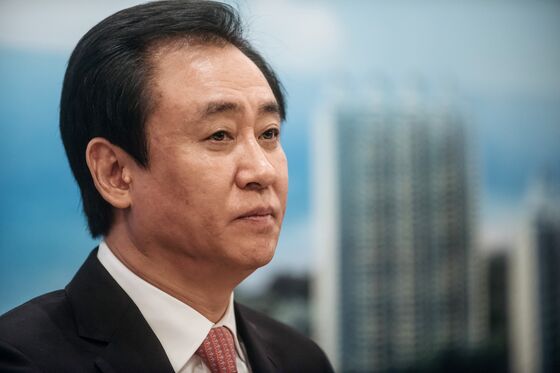 That may be the case, but it seems investors have other ideas -- Evergrande's shares are down about 36 percent from their October 2017 peak and its dollar bonds are near record lows. The bond sale seemed to signal a "certain desperation," said Nigel Stevenson, an analyst in Hong Kong at GMT Research Ltd., adding it conveyed "signs of stress."
Here are four charts that show some of the biggest challenges.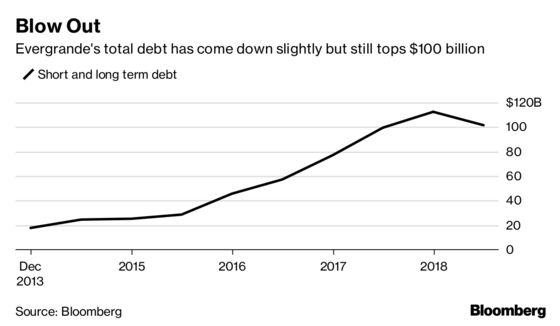 Evergrande's total short- and long-term debt has come down a bit but is still more than $100 billion. What's more, short-term borrowing has been hovering at around half of the total, upping the refinancing risk amid Beijing's tighter financing curbs. Evergrande has reportedly been in talks to raise $1.5 billion by offering its Hong Kong office tower as collateral.
"There might be a cash flow problem for some of the developers," said Gary Ng, Asia-Pacific economist for Natixis SA. "We see more property speculation restrictions coming in, including rumors of potential presale restrictions. We also have higher offshore funding costs and a mismatch between U.S. dollar debt and yuan revenues."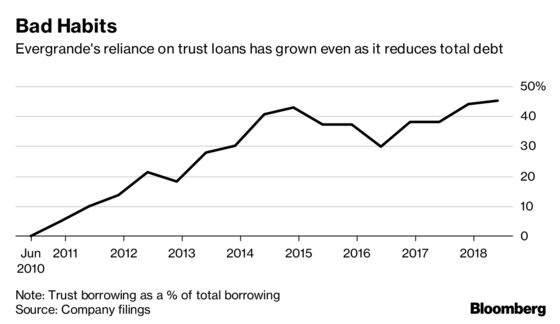 Trust financing accounted for about 45 percent of Evergrande's total borrowing at the end of June, the largest chunk since at least 2010. That's led to an "uneven capital structure," according to S&P Global Ratings analyst Matthew Chow.
Most of Evergrande's publicly traded peers are much less reliant on such funding. Longfor Group Holdings Ltd. and China Resources Land Ltd. say they don't use trusts, while China Vanke Co. gets about 18 percent of its financing from sources other than banks and bonds.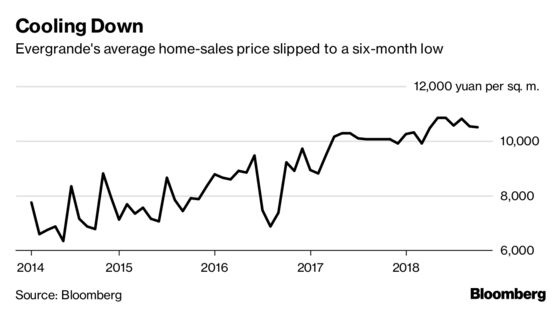 Demand from home buyers in China, where Evergrande generates the bulk of its revenue, may be waning. The average price for residences sold declined for two straight months to a six-month low in September, Bloomberg calculations based on filings show.
To be sure, the company registered contracted sales of 445 billion yuan ($63.8 billion) in the first three quarters, the nation's second-largest tally according to China Real Estate Information Corp. Robust sales growth and expanding margins may help in deleveraging, S&P's Chow said.
Cash inflows from property sales have recently trumped all other financing channels for Chinese developers, which is why a mooted wholesale ban on the pre-sales system is such a concern.
While it can take 18 months to three years for companies to book pre-sales as revenue, Ng says developers are now trying to accelerate this cycle with pre-sale price discounts and by speeding up development. One thing rising in the Caixin PMI data was construction, which suggests a "pre-loading" of projects, he said.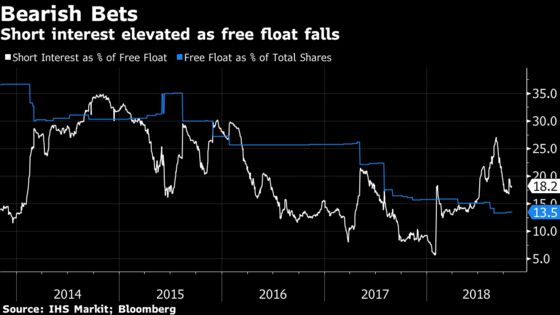 Then there are the short-sellers, which despite the share-price declines never really left the playground.
Evergrande remains the most-shorted Chinese developer, with short interest at 18 percent of its meager free float, data from IHS Markit show. While Hui has long experience in jousting with bearish investors, the company's room for more buybacks to prop up its share price is limited.
Now, it may be entitled to buy back just 34.6 million of shares, because of limits on how small the firm's free float can get, estimates independent analyst Travis Lundy, who publishes on Smartkarma. That's less than the company purchased on a single day in July, during a recent buyback campaign.