Evergrande Billionaire's Empire of Debt Downsized by Beijing
(Bloomberg) -- Billionaire Hui Ka Yan is discovering how hard it is to kick one of the world's biggest debt habits.
As the founder of China Evergrande Group races to deleverage his property empire, he's coming under increasing scrutiny from lenders, regulators and investors. One sign of mounting stress: some Evergrande dollar bonds now trade at the lowest levels since the depths of a global market crash in March 2020.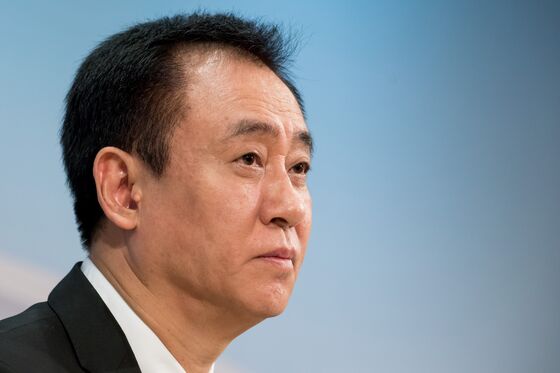 The slump underscores the tricky path ahead for Hui, even as Evergrande nears one of its key debt-reduction targets. The developer is poised to meet one of the Chinese government's "three red lines" for real estate companies by the end of June, according to people familiar with the matter, who asked not to be named discussing private information. Total borrowings dropped roughly 15% from March to about 570 billion yuan ($88.3 billion), the company said Tuesday.
The bigger issue is whether Hui can continue downsizing without precipitating a crisis. Last year the tycoon narrowly escaped a cash crunch, relying on wealthy friends and implicit government support to quell doubts about his ability to manage borrowings that ballooned more than 2,000% in a decade to $111 billion. In recent months he's been slashing land purchases, offering big discounts to home buyers and selling stakes in some of Evergrande's prized assets.
With Beijing losing patience and banks pulling back, some investors question whether Hui can escape unscathed.
"Any misstep could intensify market panic, and its liquidity chain is very fragile," said Deng Hao, Chief Executive of Beijing GEC Asset Management. "Under the current policy and market environment, it's very difficult. Evergrande's deleveraging road could be long and painful."
| Beijing's three red lines | Evergrande's target |
| --- | --- |
| 100% cap on net debt to equity | to be met by June 30 |
| Cash to short-term debt ratio of at least one | Dec. 2021 |
| 70% ceiling on liabilities to assets, excluding advance proceeds from projects sold on contract | Dec. 2022 |
China's central bank singled Evergrande out as far back as 2018 for having the potential to pose systemic risks to the financial system, along with HNA Group, Tomorrow Holding Co. and Fosun International Ltd. Still, it wasn't till Beijing issued a new set of directives (the so-called three red lines) and Evergrande narrowly skirted a liquidity scare last September that Hui got the message.
The developer pledged in March to roughly halve debt in two years to $54.2 billion or less even in the face of sliding profits. Evergrande plans to beat policy makers' mid-2023 deadline for meeting the three targets six months early, President Xia Haijun has said.
Evergrande didn't respond to questions beyond providing its current borrowing position. Its shares rose 1% in Hong Kong.
The company's dollar bonds declined as a local paint firm reported overdue bills owed by Evergrande units. Skshu Paint Co. said in a filing that it's "actively negotiating" on repayments. Evergrande's 8.75% dollar bond due in 2025 fell 1.3 cents on the dollar to 67.4 cents, on pace for its lowest close in 15 months, according to Bloomberg-compiled data.
Evergrande has shed nearly $8 billion worth of assets so far this year, selling stakes in its electric vehicle unit, its internet operation, a Hangzhou property firm and online platform FCB Group. Investments have flowed from serial supporters, including those with links to the "Big Two Club" of Chinese poker-playing tycoons Hui is part of, and from others with ties to his numerous real estate ventures.
Potential sources of future funding include placements of its listed EV and property management units, and IPOs for arms including its beverage business, FCB, and amusement park and tourism properties, according to Fitch Ratings.
The company has some $80 billion worth of equity in non-property businesses that could generate liquidity, Agnes Wong, a Hong Kong-based analyst with BNP Paribas SA, wrote in a June report.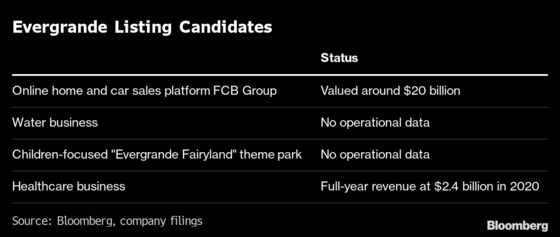 Among its most valuable financial assets is a 36% stake in Shengjing Bank Co. valued at about $2.8 billion. That holding has become less appealing to Evergrande as the regulator toughens oversight on dealings such as preferential lending and bond purchases between banks and their largest shareholders.
A report from Caixin Media's WeNews that the watchdog was examining more than 100 billion yuan of transactions between the two rocked Evergrande's stocks and bonds last month. The Liaoning provincial government is now in talks with Evergrande to reduce its ownership, according to a person familiar with the matter.
"The company's debt reduction plan is achievable," Fitch Ratings noted this month while downgrading Evergrande further into junk territory. "But it is subject to meaningful execution risk and may also negatively affect the company's business profile in the medium term."
Meanwhile, a number of old avenues of fund-raising have become tougher to access. Once a prolific issuer of debt, Evergrande hasn't sold a single dollar bond in 17 months. And its creditors have rarely been on such high alert.
Several banks are reducing lending to the developer, refusing to renew maturing debt, and trust companies have also become cautious, people familiar have said.
Bankers are writing internal reports on an almost daily basis to assess Evergrande's fast-changing risk profile in response to everything from media reports and social media rumors, to the recent ratings downgrade, people familiar with the matter said. Banks weren't this jittery even during last September's liquidity scare, they said.
Evergrande has pushed back against the idea that banks are denying it loans, saying last week that its borrowing from Minsheng Banking Corp., one of its biggest creditors, declined after it was able to raise more cash from property sales. Evergrande said its credit line from Minsheng remains intact.
Meanwhile, keeping home sales ticking over is more crucial than ever -- even at the cost of lower margins.
Properties in Dream City, a mega project in the capital of the Xinjiang Uygur Autonomous Region, are being offered at about 3,000 yuan a square meter for lumpsum payments, nearly 40% below the 4,800 yuan asking price last year, a buyer said, asking not to be identified. Evergrande has previously defended deep price cuts, saying in a post that "large-scale preferential measures" were reserved for a minority of properties.
A focus on smaller cities may help Evergrande sustain steep discounts to achieve its full-year sales target, Bloomberg Intelligence property analyst Kristy Hung wrote in a June report. However, that could drive gross margins to around 21% this year, Hung estimated, down about 3 percentage points from 2020.
In the technology hub of Shenzhen, a customer who bought two Evergrande apartments worth more than 4 million yuan last year said she's been left frustrated by all the discounting. One project in the city's north now sells for 20% less than what she paid, she said, asking to be identified by only her surname, Xiao. The discounts aren't shown on marketing material but offered by agents, she said.
She now plans to cancel her purchases and demand a refund.