China's CEFC Set to Pay Bond Interest as Deal Empire Fails
(Bloomberg) -- Beleaguered CEFC China Energy Co. is set to meet an interest payment on a dollar bond, just days after defaulting on a separate debt obligation in the domestic market and as more of the once-promising energy conglomerate's ambitious deals fail.
Bank of Communications Trustee Ltd., the trustee for the $250 million of dollar bonds issued by CEFC Shanghai International Group Ltd., owned by privately-held CEFC, has received payment for a coupon due Friday, according to people familiar with the matter, who are not authorized to speak publicly and asked not to be identified. The unit failed to repay a 2 billion yuan ($313 million) bond Monday, triggering a technical default on its dollar notes.
"Usually the offshore issuers will keep some cash or bond proceeds in offshore bank accounts for interest payment and expenses for overseas operations," said Ivan Chung, head of Greater China credit research at Moody's Investors Service in Hong Kong. "It does not necessarily mean that the offshore bonds are safe. CEFC has already defaulted in onshore market and it is unlikely to do refinancing. Moreover creditors may take legal actions at any time."
The interest payment of about $7.4 million is tiny compared with the 30.8 billion yuan of outstanding bonds at the sprawling company, which rose from obscurity in recent years to become a conspicuous player in global energy through a series of mega deals across Eastern Europe and the Middle East. As financial woes emerged and Chairman Ye Jianming came under investigation, CEFC has sold assets and witnessed the collapse of its pursuits -- the most high-profile being a $9 billion stake in Rosneft PJSC.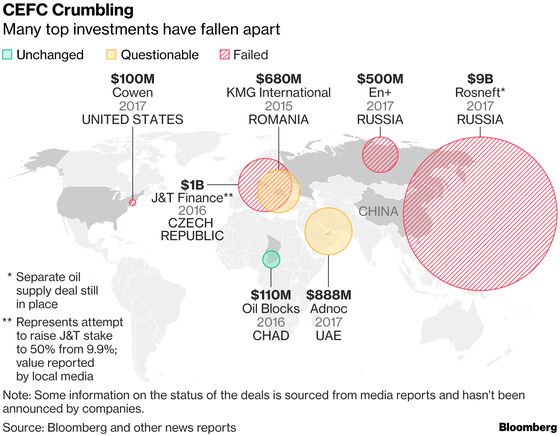 CEFC's $250 million 5.95 percent bond was indicated at a record low of 69.6 cents on the dollar as of 4:38 p.m. in Hong Kong. Calls to CEFC Shanghai representatives and a call to Bank of Communications Trustee went unanswered Friday.
The company relied heavily on bond sales for funding over the past two years, and it has 9.8 billion yuan of debt maturing this year.
Here's a look at how some of its recent deals have fared. The information, which is subject to change, is gleaned from websites, statements and reports by the company and its units, as well as media reports.
Rosneft: The Rosneft agreement collapsed this month as the sellers -- a consortium of Qatar's sovereign wealth fund and mining giant Glencore Plc -- decided not to proceed.
En+: AnAn Group, which is 50.01 percent owned by CEFC's Ye, lost its 6.25 percent stake in Oleg Deripaska-linked En+ Group Plc after a margin call by VTB Group, an executive at the bank said Friday. Media representatives for AnAn International, a Singapore-listed unit of AnAn Group, couldn't immediately comment.
J&T: On Friday, the Czech bank said a unit of China's state investment giant Citic Group would take on CEFC's unpaid debt and become owner of its original 9.9 percent stake in J&T Finance Group. An earlier plan by CEFC to boost its holdings in J&T to 50 percent was rejected by the Czech National Bank.
Cowen: The deal to buy a 19.9 percent stake in New York-based brokerage Cowen Inc. for $100 million disintegrated amid difficulties in gaining approval from the U.S. Committee on Foreign Investment.
Adnoc: Citic Group is also said to be examining CEFC's 4 percent stake in onshore oil fields operated by Abu Dhabi National Oil Co., with the possibility of taking the assets over.
KMG: CEFC's purchase of a 51 percent holding in Romanian oil company KMG International NV is said to be postponed until the end of June.
Chad: CEFC bought a 35 percent stake in three oil and gas blocks in Chad for $110 million from Taiwan's CPC Corp. The assets have proved reserves of 105.79 million barrels of oil, with production expected to have begun last year, according to CEFC's website.
Rosneft Supply Deal: CEFC receives cargoes from Rosneft as part of a contract signed in 2017 for as much as 12 million tons of crude a year.
Oil storage facilities at Yangpu Harbor and Rizhao Port in China
Energy trading businesses in Singapore and Hong Kong
Asset management and equity investment holdings in Hong Kong
Fuel distribution operations in France and Spain
Controlling stake in Slavia Prague Football Club
Holdings in Travel Service, the top shareholder of Czech Republic's national airline CSA Czech Airlines
Stake in Czech beer brand Pivovary Lobkowicz