Emerging-Market Bulls Reveal Themselves in U.S. Options Trades
(Bloomberg) -- U.S. options have been showing more bullishness about emerging markets, and some strategists say they may be a good place to bet on further gains.
On the iShares China Large-Cap exchange-traded fund, a measure of how expensive bearish options are versus bullish ones fell to the lowest level since July 2015. Susquehanna strategist Chris Murphy on Monday highlighted trades this week and last that bet on an advance in the iShares MSCI Brazil ETF in the next few months, with a trade in March options seeing some gains through the first quarter, and one last week in January call spreads. Credit Suisse Group AG suggests placing bullish February call spreads on the iShares MSCI Emerging Markets ETF overall.
"We've seen a strong bid for EEM upside in the derivatives market recently" and "as a result, call spreads line up bullish," said Credit Suisse derivatives strategist Mandy Xu. "In addition to attractive valuations," she said, "EM also looks well positioned to outperform whether there is a value- or growth-driven rally in 2021" because the countries have cyclical economies but still with a strong weighting to technology.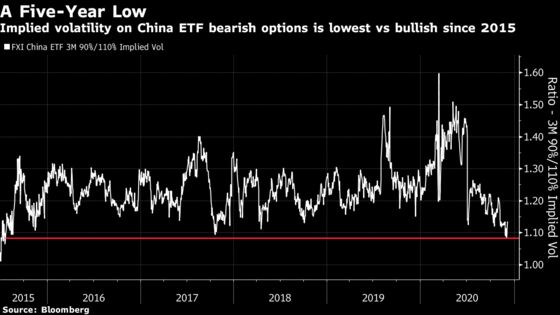 Emerging markets have been a popular recommendation recently amid encouraging news on Covid-19 vaccines, as numerous strategists expect the global economy to recover while still awash in stimulus offered by central banks and governments to ease the pandemic's damage. Resolution on the U.S. election has helped as well, removing some uncertainty that had hung over markets writ large. What's more, while JPMorgan Chase & Co. said last week that many trades in the predominant pro-risk narrative have gotten crowded, going overweight emerging-market equities versus developed ones is less so.
Credit Suisse's options-trade recommendation on the emerging-market ETF follows one from Susquehanna, where strategist Murphy recommended a February $50/$54 call spread on Nov. 20. In addition to the popularity of a bullish-EM narrative, he said the space would benefit from a weakening U.S. dollar, and the ratio of EEM to the SPDR S&P 500 ETF Trust showed signs of breaking out -- indicating emerging markets could outperform going forward.