Dwindling China Margin Debt Shows Traders Skeptical of Rebound
(Bloomberg) -- The biggest Chinese stock rally since 2015 wasn't enough to revive speculative interest among the nation's army of investors.
The balance of margin debt on the Shanghai and Shenzhen stock exchanges fell to 826.3 billion yuan ($120 billion) on Friday, the lowest in more than two years and a 17th consecutive weekly decline. That's even as the CSI 300 Index jumped 5.2 percent during the week.
Dwindling leverage suggests no turnaround in sight for the nation's beleaguered stocks, which are some of the world's worst performing this year, battered by the trade dispute, a government campaign to cut debt and a slowing economy. The country also surrendered its claim to having the world's second-largest stock market along the way.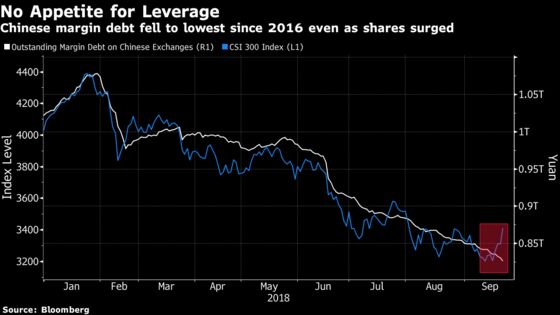 "Although there was a strong rally in stocks last week, the continuous slowdown in margin debt shows that investors, especially retail ones, are still cautious," said Zhang Gang, Shanghai-based strategist with Central China Securities Co. "Their attitude is to hold a wait-and-see position, given the stock market is still at a relatively low level."
Retail investors make up about 80 percent of the trading volume in China's market. Outstanding margin loans topped $300 billion at their peak in 2015, and losses snowballed when the bubble burst as investors were forced to sell shares to meet margin calls.
China's benchmark Shanghai Composite Index has fallen 22 percent since a January high, and dropped as much as 0.9 percent Tuesday.
Zhang said margin financing won't pick up unless index gains are sustained. "The market needs to see more positive signals following last week's rally."