Delayed Bond Coupons Paid; Resolve Tested: Evergrande Update
(Bloomberg) -- Investor speculation that China will take steps to ease the cash crunch for embattled developers drove property stocks and bonds higher.
A series of articles published in state media in the past few days signal support measures are on the way to help developers tap debt markets, potentially easing a liquidity crunch that began with China Evergrande Group's meltdown five months ago. Meanwhile, Evergrande again averted default. Customers of international clearing firm Clearstream received overdue interest payments on three U.S. dollar bonds issued by Evergrande, a spokesperson for Clearstream said. 
A gauge of real estate stocks jumped 5.7% on Thursday, capping its best two-day gain since 2015 as short sellers unwound bearish bets. Chinese high-yield dollar bonds rose 2-8 cents on the dollar. Shares and bonds gained for a second day after reports that regulators may adjust rules to allow real estate firms to sell debt in the domestic interbank market. Another report showed state-owned enterprises are pushing for the right to increase borrowing for mergers, which could make it easier for them to snap up struggling developers. State-run banks meanwhile boosted lending to the industry last month, state media reported.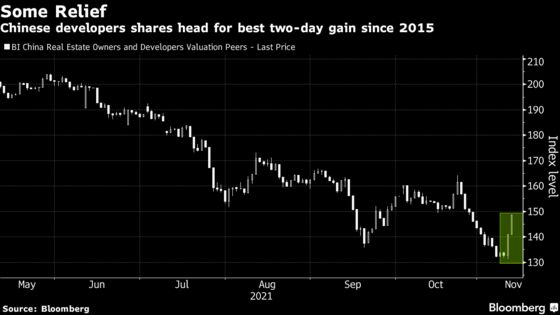 China State Media Stoke Speculation Property Crackdown May Ease
Kaisa Tells Investors It May Not Make Coupon Payments: REDD
Northeast Chinese City to Ease Home Purchase Curbs: Cailian
Kaisa Group Downgraded to CCC- by S&P
China Property Bond Fallout Has Traders Eyeing Beijing Response
Darkest Moments May Be Over for the Property Sector: China Today
Agile Group Downgraded to BB- by S&P, Outlook Negative
PBOC: Growth in China Outstanding Mortgage Loans Accelerates
Furious Investors Test China's Resolve to Crack Down (2 p.m. NY)
What began at Evergrande has started to spread. At least four developers that sold complex investments to tens of thousands of Chinese investors through wealth-management units are dropping bad news: Sorry, we can't pay you back on time. The fury -- at the companies and government authorities alike -- is building.
The cracks that have appeared in China's property market have panicked not only homeowners but also the many investors who were lured to developers' wealth-management products, or WMPs. At least 70 billion yuan ($10.9 billion) of WMPs linked to the firms have missed payments or faced revised maturity schedules.
Kaisa May Not Make Coupon Payment: REDD (5:20 p.m. HK)
Kaisa Group Holdings Ltd. said in a notice to investors Thursday that it "may not be able to pay the coupons" on its bonds because of legal and cross-default issues both domestically and offshore, REDD reported. The firm "is still sorting out" the matter and told investors that "nothing set in stone yet," said REDD, citing a copy of the notice distributed in response to investor queries
Yango Parent Seeks Product Payment Delay (4:09 p.m. HK)
The parent company of developer Yango Group Co. proposed to delay payments on wealth management products after missing payouts earlier this month, the latest sign of stress in the nation's real estate sector.
The group is drafting a new repayment plan after missing a deadline at the start of November, proposing at least a month's delay, according to minutes from a meeting that was held with representatives of wealth product holders and seen by Bloomberg News.
Local Government Land Sale Income to Drop (2:59 p.m. HK)
Local governments in China will probably see a contraction in income from land sales next year, putting their finances under more pressure and prompting a renewed shift toward debt-financed growth, according to Moody's Investors Service Ltd.
A drop in land sales revenue, which accounts for about one-third of regional governments' income, will likely constrain fiscal funding for infrastructure, Moody's analysts including Jack Yuan said in a report Thursday.
State Media Boost Hopes of Easing Curbs (11:24 a.m. HK)
China's bank lending to property developers rose sharply in October and the momentum is expected to extend into November, the country's flagship securities newspapers reported.
The China Securities Journal, Shanghai Securities News and Securities Times all carried similar reports Thursday on their front pages, which elaborated on October credit data released by the People's Bank of China Wednesday afternoon. Mortgages also picked up in the month, the central bank said in a separate report. 
China Developer Kaisa Faces Payment Test (9:36 a.m. HK)
Kaisa faces two dollar-bond interest payments of a combined $88.4 million this week, days after the Chinese developer missed payouts on financial products it guaranteed. This week's interest payments have 30-day grace periods before events of default occur, according to bond documents seen by Bloomberg.
Property Shorts Squeezed in Crowded Bet (8:41 a.m. HK)
Betting against Chinese developers is suddenly becoming a more perilous game, as expectations of easing measures squeeze short sellers who made a killing targeting the stocks this year. 
A stock gauge of the nation's real estate companies jumped 6.2% on Wednesday. Short-selling volume exceeded 20% of total equity turnover for 13 of the 28 Hong Kong-listed firms on the index (mainland stocks aren't eligible for short selling). For Sunac China, whose shares rose 15% -- the most in seven years -- short selling volume was the third-highest on record as bears were forced to unwind their positions.
Traders Eyeing Beijing Response to Bond Fallout (5 a.m. HK)
First it was Evergrande. Then it was smaller junk-rated developers. Now most of China's largest property firms are getting pummeled in the bond market, adding pressure on Beijing to limit the damage.
Higher-rated companies such as Country Garden Holdings Co. and China Vanke Co. have seen their dollar bonds decline in recent days amid concern over the size of the industry's hidden debt and the ability of firms to refinance. 
The widening fallout may prompt policy makers to take steps to ease the liquidity crisis. On Wednesday, a local media report said officials may loosen curbs on domestic bond issuance to prevent financing conditions from worsening. The news triggered gains in property companies' bonds, although analysts cautioned such a development would only benefit higher quality firms. Cailian also reported that state-owned enterprises have asked regulators to adjust the "three red lines" lending limits for mergers in the sector, helping lift developer shares.
Evergrande Pays Interest, Set to Avert Default Again (4:06 a.m. HK)
Clearstream customers received overdue interest payments on three U.S. dollar bonds issued by Evergrande, a spokesperson for Clearstream said, while two investors that hold two of the bonds confirmed that they received the payments, asking not to be identified because they weren't authorized to speak publicly.
Evergrande missed the initial interest deadlines last month, data compiled by Bloomberg show. The affected bonds include a 9.5% note due 2022, 10% bonds due 2023 and its 10.5% note due 2024. The property giant pulled back from the brink of default in October by paying other coupons before the end of its grace period.
A look at Evergrande's maturity schedule:
Dollar bonds
Coupon due date
Grace period ends

Amount 

(million dollars)

TIANHL 13% due 2022
Nov. 6
Dec. 6
41.93
TIANHL 13.75% due 2023
Nov. 6
Dec. 6
40.56
EVERRE 7.5% due 2023
Dec. 28
Jan. 27 
50.43
EVERRE 8.75% due 2025
Dec. 28
Jan. 27 
204.77