Delayed China Bond Rescue Spurs Questions About White Knight
(Bloomberg) -- A would-be rescuer for a Chinese luxury giant struggling with its bond payments is itself finding questions raised about its financial firepower.
Debt-burdened textile manufacturer Shandong Ruyi Technology Group won a lifeline in October when a financing vehicle owned by local authorities agreed to provide a capital injection and guarantee some of its debt. Shandong Ruyi has since then managed to make good on its bond payments, including a coupon due for its 2022 dollar security this month.
Problem is, the white knight -- Jining City Urban Construction Investment Co. -- has yet to follow through on paying for the 3.5 billion yuan ($509 million) stake, its prospectus for a bond sale showed last month.
More worries came Tuesday last week, when the designated savior issued that bond at a yield well over 1 percentage point more than its peers with the same rating, according to data compiled by Bloomberg. While the level was not quite distressed -- at 6.8% on a perpetual security callable in five years -- it did show investors demanded more return for the risk.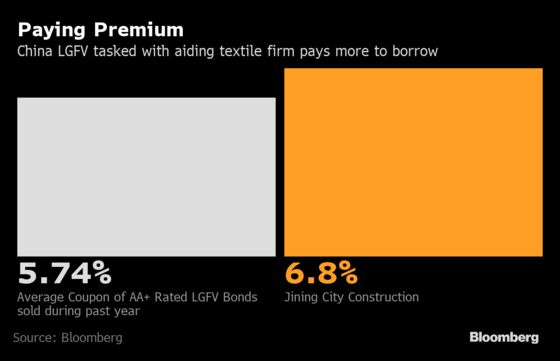 Yang Hao, an analyst at Nanjing Securities Co. doesn't expect Ruyi's rescue to impact the company immediately, but further down the road "It's an abyss, which will surely drag down Jining City Urban Construction," he said.
Without the LGFV paying for the announced purchase of a 26% stake -- which would make it the second-largest shareholder, --doubts may continue to swirl around Shandong Ruyi. That company has been battling liquidity concerns in recent months, the hangover from a $4 billion foreign-acquisition spree that spanned U.K. trench-coat maker Aquascutum to Swiss dress-shoe brand Bally.
Multiple calls to Jining City Urban Construction and to the Shandong Ruyi office responsible for disclosing securities information went unanswered.
Both companies are based in the northeast province of Shandong, one of China's wealthiest areas but one that's seen more than its fair share of the country's record distress in the bond market.
Provincial authorities gave Jining City Urban Construction a helping hand earlier this month, with an 800 million yuan cash injection, after the local government financing vehicle had said in its bond prospectus last month that it would face pressure if it had to pay in cash for the Shandong Ruyi deal.
The white knight potentially could be on the hook for more: it had guaranteed some 2.2 billion yuan worth of Shandong Ruyi's debt, as of the end of October. Cross-guarantees have been a notable feature of the province's debt woes, spreading contagion when individual borrowers fall into trouble.
After coping with whatever 2020 brings, the LGFV then faces more than 8 billion yuan in debt maturing over 2021-22, according to a December report by China Chengxin International Credit Rating Co.