CSRC Asks Beijing Orient Lenders Not to Force Share Sales
(Bloomberg) -- Chinese regulators took action to try to prevent a public company's share pledges from jeopardizing its stability, according to people familiar with the matter, as a market plunge exposes the perils of using stocks as collateral for loans.
The China Securities Regulatory Commission met with 23 creditors of Beijing Orient Landscape & Environment Co. on Tuesday, and advised them to not force sales of pledged shares or freeze the company's assets through legal procedures, said the people, who asked not to be named as the matter is private. The stock had fallen 28 percent in the seven trading days through Tuesday, and was at that point down 63 percent this year.
Forced selling is adding to the long list of issues facing investors in China, from worsening trade ties with the U.S. to concerns of slowing domestic demand and a slumping yuan. The Shanghai Composite Index is among the world's worst performing benchmarks this year, and at least 36 companies have seen pledged shares liquidated by brokerages since the start of June, according to filings. About $613 billion of shares are pledged as collateral for loans in China's $5.4 trillion market.
Beijing Orient said in an email that Tuesday's meeting was a "preemptive measure" by the regulator in reaction to abnormal moves in the stock market. The company's debt and cash flow considerations are "controllable" it said, and the pledged shares have no risk of forced liquidation at the moment. The CSRC couldn't immediately comment on the matter.
Shares of Beijing Orient rose as much as 8.6 percent in Shenzhen on Thursday, the most since April 2017. The stock closed up 1.6 percent.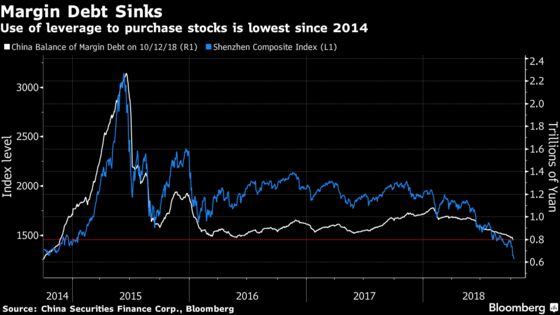 CSRC's Beijing branch made the suggestion to Beijing Orient's creditors including First Capital Securities Co. and Bank of Shanghai Co., said the people familiar with the matter. Bank of Shanghai declined to comment, while First Capital was not immediately reachable.
Controlling shareholder He Qiaonv and her affiliate owned a total of 1.34 billion shares, or 50.7 percent, of Beijing Orient, and about 1.1 billion shares, or 83 percent of their holdings, have been pledged for loans, the company said in a statement Thursday. That has put pressure on lenders as the value of collateral put up for share-pledged loans eroded.
He and the affiliate plan to sell no less than 10 percent of the company's stock and use the money to repay share-pledged loans, according to the statement.
The CSRC meeting was aimed at preventing the risks associated with the high number of shares pledged by the controlling shareholders spreading to the listed firm, said the people. Agency officials also suggested that creditors should give the company's major shareholders time to address the risks.