One of Hong Kong's Worst Performing Stocks Is Rated Very Highly
(Bloomberg) -- Analysts are sticking to their guns on CSPC Pharmaceutical Group Ltd., Tuesday's worst performer on Hong Kong's Hang Seng Index.
CSPC, the largest Hong Kong-listed specialty drug maker by market value, is rated a buy or equivalent by 33 of 36 analysts tracked by Bloomberg. They're encouraged by growth opportunities in China's drug market, the defensive nature of the sector and management's confidence sales targets for major products will be met. They also see limited impact for now from reforms aimed at tighter supervision and price controls.
Key Takeaways

Analysts said CSPC's management is confident about sales and that any impact from the government's centralized procurement plan would be limited for now.
"For centralized procurement, management believes the current pilot scheme still has many loopholes and uncertainties in its actual implementation," Jefferies Hong Kong Ltd. analysts Cyrus Ng and Lois Zhou wrote in a note.
Sales are strong for main drugs including NBP, Oulaining and Xuanning.
CSPC's net income for the first nine months of 2018 was HK$2.73 billion ($350 million).
The average 12-month price target of analysts implies 40 percent upside.
CSPC slid 5.3 percent Tuesday, the day's worst performer on the Hang Seng Index.
CSPC is at its lowest since Oct. 30, falling 14 percent over the past week, and down 38 percent from a record high on May 28. It has still managed to eke out a 2.7 percent gain this year. The Hang Seng Index is down 14 percent.
MSCI China Health Care subgauge dropped 3.2 percent Tuesday, lagging all other sectors on the index.
CSPC trades at 22 times 12-month forward earnings compared with a sector average of 18 times.
Chinese investors sold HK$45 million of CSPC shares via the Shanghai stock connect on Monday, Bloomberg calculations based on turnover show, making it one of the most sold Hong Kong stocks via the southbound link.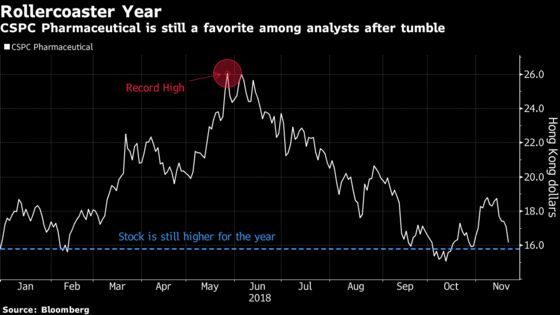 Nov. 11: Pharma Stocks Slide Again as Drug Pricing Concerns Weigh
Sept. 26: Health-Care Stocks Present Buying Opportunity, CICC Says
Sept. 19: China Health Care Cos. Fall as Govt Calls For Tighter Supervision
Aug. 21: Chinese Health-Care Companies Rebound as Valuations Attract
Aug. 17: China Health-Care Gains for Year Erased Amid Vaccine Fallout