WHO Says Hubei Cases Stabilized; American Dies: Virus Update
(Bloomberg) -- The pace of new infections in Hubei Province, center of the coronavirus outbreak, may be stabilizing as the death toll nears the total from SARS.
An American and a Japanese man suspected of getting the virus died in Wuhan this week, officials said. The disease is spreading, with five Britons sharing an Alps chalet confirmed with cases, and two new cases on a Princess Cruise ship in Japan -- largest center of infections outside China.
The virus reaches a milestone this weekend if deaths continue at the current pace. The toll of 724 after two months is shy of the 774 killed in the 2002-2003 outbreak of severe acute respiratory syndrome over about eight months.
American who died in Wuhan was a woman: New York Times
China's sick doctors show breaches can fan coronavirus
China death toll at 722; confirmed cases at 34,546
Singapore confirms seven new cases, pushes total to 40
Five Britons on ski holiday in French Alps are infected
Carmaker VW delays restarting China joint ventures
World's retailers take hit as Chinese shoppers stay home
Death of a hero doctor sparks crisis of confidence in Xi's China
Bloomberg is tracking the outbreak on the terminal and online.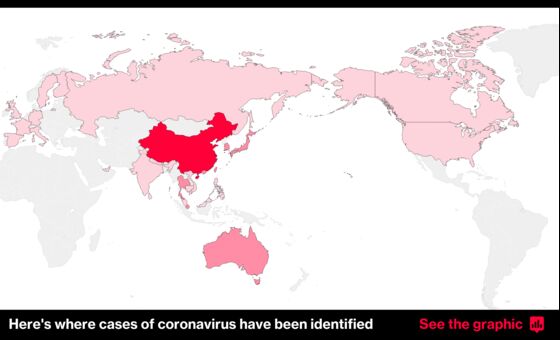 U.K. Makes Final Evacuation Flight (3:45 p.m. NY)
The final flight taking British citizens and others out of China has left Wuhan carrying more than 200 passengers, a U.K. Foreign Office spokesman said in Saturday a statement.
Those on board include government officials who arranged the flight and medics, according to the statement.
"Alongside British nationals, there are other nationalities on board," the official said.
WHO to Send Team to China (1:15 p.m. NY)
The World Health Organization expects a team to leave for China in the next few days, starting with a leader still to be named, Director-General Tedros Adhanom Ghebreyesus said Saturday at a briefing on the spreading coronavirus.
The team's leader will fly to China early in the week with the others heading to the center of the coronavirus outbreak later, he said at a briefing in Geneva. China responded Saturday to an offer to send the experts, he added.
Asked whether the U.S. Centers for Disease Control would have representatives on the team, Ghebreyesus said: "We hope so."
Cases in Hubei Haven't Advanced: WHO (11:45 a.m. NY)
There has been a stabilization in the number of cases reported in Hubei province, epicenter of the coronavirus epidemic, Michael Ryan, the executive director of the World Health Organization's health emergencies program, told reporters Saturday in Geneva.
"We're in a four-day stable period where the number of reported cases hasn't advanced and that's good news and may reflect the impact of the control measures we've put in place," Ryan said. "But remember there are lot of suspected cases still to be tested."
Two provinces outside Hubei -- Guangdong and Zhejiang -- each have more than 1,000 cases. It's hard to say if the rate of infection in those regions is increasing or decreasing as the WHO is still learning when symptoms first appeared, said Maria Van Kerkhove, head of the outbreak investigation task force.
WHO Director-General Tedros Adhanom Ghebreyesus sounded a note of caution about being too optimistic over signs of stabilization.
"But even that I think we have to understand it with caution because as you know epidemics can show some stability for a few days and then shoot up," he said near the end of the briefing.
Volkswagen Delays Restarting Ventures (11:30 a.m. NY)
Volkswagen AG postponed resuming production at its China joint ventures, citing limited travel options for employees and because suppliers are still restarting after the extended national holiday at the end of January.
SAIC Volkswagen Automotive Co. postponed work by seven days until Feb. 17, except for a plant in Shanghai that will restart on schedule on Feb. 10. Most production at FAW-Volkswagen Automotive Co. will also restart on Feb. 10, one day later than announced end of January. Its plant in Tianjin will not repoen until Feb. 17.
Grab Suspends Singapore Carpooling (10:50 a.m. NY)
Grab Holdings Inc., which runs Singapore's biggest ride-hailing app, said it will temporarily suspend its GrabShare carpooling services starting Sunday as the number of coronavirus cases in the city reached 40.
Singapore raised its national disease response level to Orange, its second-highest level and the same one used during the SARS epidemic almost two decades ago.
Singapore Cases Jump (10:20 a.m. NY)
Singapore reported seven additional confirmed cases, bringing its total to 40. Four victims are in critical condition, and one is on oxygen support, the government said late Saturday. All the new cases are Singapore citizens or permanent residents, and none had traveled to China recently.
Japanese Cruise Infections (8:30 a.m. NY)
Princess Cruises said that two people on its Diamond Princess ship parked off the coast of Japan have tested positive for the disease. The pair -- an American and a Chinese citizen -- were taken ashore for medical care.
The Diamond Princess cruise ship has become the biggest center of infections outside of China, with 64 cases as of early Saturday, up from 61 a day earlier, said Takamasa Kojima, a spokesman for the Ministry of Health, Labor and Welfare. No deaths have been reported. The newest cases were announced by the cruise line operator and it's unclear whether they're included in the total released by the health department.
Japan has supplied 16 doctors and 12 other workers to the ship to try to restrict the breakout, Princess Cruises said in an email. The ship is going to sea for 24 hours, and staff was planning to clean rooms and provide new sheets and towels. The quarantine will end Feb. 19, the boat's operator said.
The latest case brought the number of the Japanese infected with the virus to 26, excluding those from the quarantined ship, the report said.
Five New Cases Nearly Double French Total (5 a.m. NY)
A group of Britons sharing a ski holiday in the French Alps have been diagnosed with the coronavirus. Four adults and a child have been confirmed as having the illness and 11 people have been hospitalized, French Health Minister Agnes Buzyn said Saturday. The nine-year-old boy who was among the new cases had visited two local schools in the area.
The new cases started with a British national who traveled to France after a three-day stay in Singapore, arriving in the Haute Savoie region on Jan. 24 for a four-day stay, he said.
The new cases come at the start of the peak ski season, with French schools closed for their winter holiday and thousands of British families preparing to travel to the region when U.K. schools begin their winter break after Feb. 14.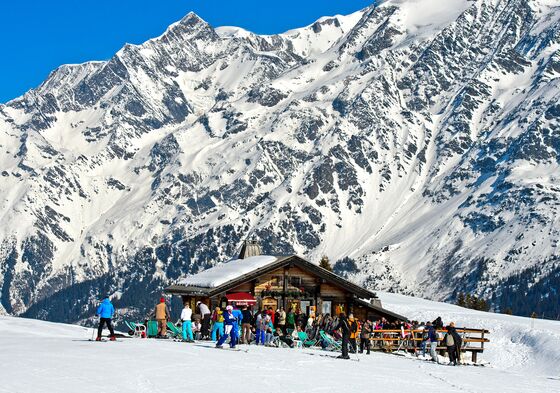 Crackdown on Wildlife Trade, Sped-Up Drug Approvals (4:30 p.m. HK)
China will expedite the coronavirus drug approval process and crack down further on illegal wildlife trade, officials from the Joint Prevention and Control Mechanism of the State Council said at a press conference in Beijing. Speakers included officials from State Administration for Market Regulation, National Medical Products Administration, and Chinese Center for Disease Control and Prevention.
Authorities said they will also address the surge in prices of face masks, as well as monitor the prices of consumer staples to make sure they remain stable.
American, Japanese Citizens Die in Wuhan (1:30 p.m. HK)
A 60-year-old U.S. citizen died in Wuhan two days ago, the U.S. embassy in Beijing said. "We offer our sincerest condolences to the family on their loss," the embassy said in an emailed statement. "Out of the respect for the family's privacy, we have no further comment." The person who succumbed to the illness was a woman with underlying health conditions, the New York Times reported, citing two unidentified people familiar with the matter.
A Japanese man suspected to have been been infected with the new coronavirus died in a Wuhan hospital, Japan's foreign ministry said. The cause of death was stated as viral pneumonia because it's difficult to conclude definitively that he had the virus, though there was a high suspicion that he contracted it, the ministry said in a statement, citing Chinese authorities. The man was in his 60s.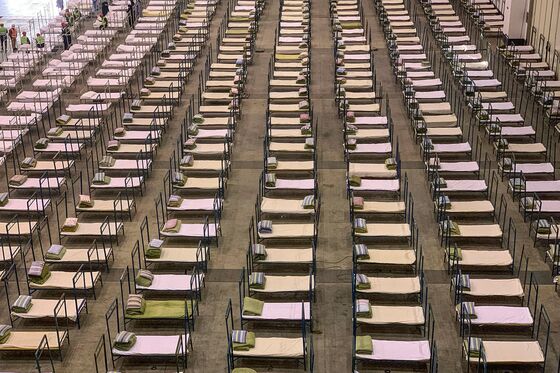 Hong Kong Mask Shortage (10 a.m. HK)
The Hong Kong Hospital Authority's mask supplies could only last a month, RTHK reported, citing an executive with the group. While it has about 16 million masks, usage by public hospital workers spiked five times last month, compared with before the virus outbreak. The authority is facing challenges in trying to procure more masks, the report said.
Hong Kong Imposes HK$25,000 Fine, Jail Term for Breaking Quarantine (8 a.m. HK)
The city's mandatory 14-day quarantine measure for all arrivals from China, effective from midnight Saturday, will carry a HK$25,000 fine and a prison term of as long as six months, according to Hong Kong Chief Secretary Matthew Cheung.
The quarantine applies to all arrivals who have been to China in the past 14 days. Hong Kong residents returning from China can quarantine at home, while non-residents can either quarantine at hotels or at designated facilities, Secretary for Food and Health Sophia Chan said.
Hong Kong saw a spike in the number of arrivals before the quarantine was imposed, with the number of people entering the city reaching 82,017, a rise of almost 40% from the day earlier, city officials said Saturday.
Royal Caribbean Blocks Chinese From Ships (6 a.m. HK)
Royal Caribbean Cruises Ltd. has barred passengers with Chinese, Hong Kong or Macau passports from boarding its ships this month, and will require extra screening for people who came in contact with someone who was in China in the past 15 days.
"These steps are very conservative, and we apologize that they will inconvenience some of our guests," the cruise operator said in a statement.
In addition, the company said anyone who feels unwell or demonstrates flu-like symptoms or shows up with a fever will be denied boarding.
Passengers on the company's Anthem of the Seas, docked in New Jersey, were cleared to leave Friday after more than two dozen were screened for coronavirus, the first such cruise scare on U.S. shores. Four passengers, Chinese nationals, went to a local hospital and tests are pending, the company said. The ship has been cleared to depart.
Medical Supply Chain From China Unaffected (3:30 p.m. NY)
The coronavirus hasn't led to any disruptions in the U.S. in the supply chain of medical and protective gear, much of which is made in China, officials from President Donald Trump's task force said at a briefing Friday where they updated the public on progress.
Efforts to produce drugs to treat infections and vaccines to prevent new cases are proceeding smoothly, said Anthony Fauci, head of the National Institute of Allergy and Infectious Diseases.
There are two studies underway using Gilead Sciences Inc.'s remdesivir to see if patients treated with it recover more quickly than those given standard supportive care. Efforts to start human studies of Moderna Inc.'s potential vaccine within the next two-and-a-half months are proceeding with no glitches, Fauci said.
The U.S. is still waiting to hear from China about whether its offer to send experts in virology, drug development and epidemiology as part of a team from the World Health Organization will be accepted, Health and Human Services Secretary Alex Azar said at the briefing.
U.S. Ready to Aid China, Others (2:30 p.m. NY)
The U.S. is prepared to spend as much as $100 million to help China and other nations fighting the spread of the coronavirus, Secretary of State Michael Pompeo said Friday. The U.S. this week helped ship to China 17.8 tons of donated supplies, such as masks, gowns, gauze, respirators and other materials this week, he said in a statement.
The financial assistance to foreign government is direct and through multilateral organizations, the Sate Department said.