Copper Traders Hunt for More Good News After Longest Rally Slows
(Bloomberg) -- Copper is on the cusp of its longest rally on record, but the metal seen as a global economic bellwether has recently stumbled -- and traders are watching Washington and Beijing for clues to the next leg up.
Traders and leading investors say the market needs more good news before prices can rip higher. A lot will depend on when President Joe Biden's virus relief bill will pass and how expansive it will be; how quickly vaccines can be rolled out; and how much demand from China, the world's largest buyer of commodities, is reduced by efforts to limit the pandemic's spread during the Lunar New Year holiday period.
"People are generally optimistic for the long-term prospect globally, but it's a question of when it's going to really take hold," said Jon Lamb, portfolio manager at Orion Resource Partners which had $6.3 billion under management as of the end of September. "It's clarity on what those initiatives -- from the next round of Covid relief funding to post Covid stimulus infrastructure projects where EVs and renewable energy are going to be big focuses -- will look like and the timing will be the catalyst."
Used in everything from pipes and electronics to electric vehicles, copper is widely watched as a barometer of the world economy. Bets on a global post-lockdown rebound, brisk recovery in China and green economy initiatives in the U.S. sent copper to an eight-year high.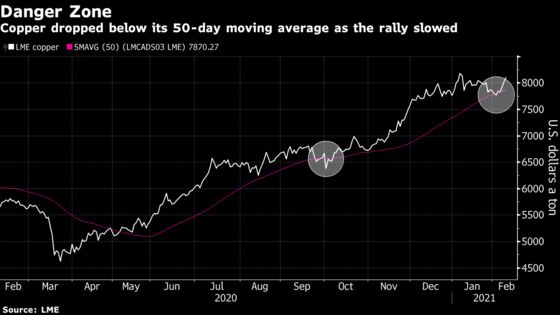 The metal is up for ten straight months, and an eleventh gain would mark the longest monthly rally since the current form of the London Metal Exchange's copper contract started trading in 1986.
It's on track to pass that milestone with over 5% gain so far in February -- trading at $8,288 a ton on Wednesday -- but the rally has been trailing the broader Bloomberg Commodity Index in recent months. Last week, prices briefly closed below their 50-day moving average, in a bearish technical signal seen for only a second period in the metal's historic run.
Details on longer-term Biden administration initiatives friendly to copper are also lacking, like those on infrastructure and climate change. While they're top priorities, it's not clear what the appetite in Congress will be for a big spending plan or how quickly bills will get passed.
It's not only the timing of the economic recovery that's dogging copper. There are shorter-term factors making it less of an attractive bet. The upcoming Lunar New Year holiday, which starts on Feb. 11, means weaker demand in China.
In the U.S., the dollar's recent recovery hasn't helped. Copper is priced in dollars, making it more expensive for investors holding other currencies. The Bloomberg Dollar Spot Index gained 0.9% last month, the first monthly gain in four.
While most of Wall Street is gearing up for higher prices, the rally is not without its doubters.
JPMorgan Chase & Co. analysts last week said the current China-driven supercycle has peaked, and Chinese investment growth is set for declines. Copper prices will move from an average of $7,700 a ton in the first quarter to $6,500 in the fourth quarter.
Short-term headwinds aside, bulls say copper still has plenty going for it.
The risk of inflation due to the size of President Biden's relief plan, which dwarfs the rescue package of 2009, could also be a plus for copper. Rising inflation means higher prices for the metal when it's in demand during a stimulus-driven recovery.
Investor expectations for inflation have climbed, averaging 2.2% over the next decade, according to trading in the Treasury debt market. That's up from a post-pandemic low of 0.55% last March.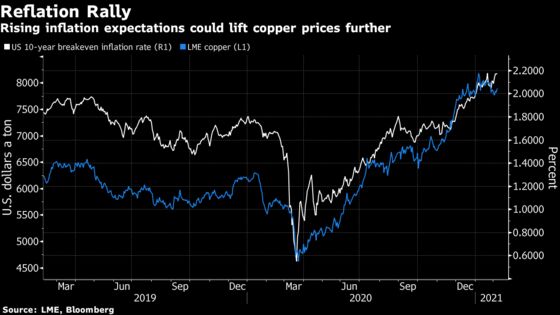 Favorable spreads and falling inventories on the London Metal Exchange could help to draw bulls back in, Citigroup analyst Oliver Nugent said. Citigroup sees a likely short-term drop in prices as a buying opportunity.
"The extra kicker you need is those organic moves to a market that's trading like it's experiencing really tight fundamentals," he said.
Analysts at Goldman Sachs and Bank of America are calling for copper prices to return toward all-time highs, lifted by the tight supplies and coming global resurgence in demand.
"Spring is likely to bring a fresh demand boost," said Morgan Stanley analysts Susan Bates and Marius van Straaten. "The supply side appears ill-positioned" to meet it.