Commodity Investors Recall SARS as They Tally Toll of New Virus
(Bloomberg) -- The spread of coronavirus in China, which has killed nine people and advanced as far as the U.S., could threaten demand for commodities from jet fuel to steel if the nation's economic activity slows.
While the extent of the outbreak won't be known for some time, it's spooking investors who recall the sharp drops in raw materials that followed the SARS crisis of 2003. Any dent to China's growth could broadly hurt prices across agriculture, materials and energy, just as the economy is showing signs of stabilizing.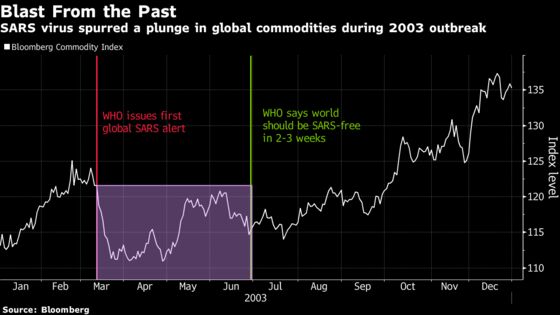 The timing of the virus's escalation, ahead of peak travel and the halt to financial markets during the Lunar New Year, is pushing traders to offload risk and pressuring raw materials prices along with other assets. And then there are specific concerns around individual commodities. Fears over travel or government restrictions on transport, for instance, would reduce demand for items like jet fuel, or rubber for tires. Steel usage might falter if workers can't make it back to construction sites after the Lunar holiday.
On a global basis, if the outbreak were to reach SARS-like proportions, it could sap 260,000 barrels a day of oil demand from the market this year, both indirectly through slower economic growth and directly as fear of airline travel reduces jet fuel use, Goldman Sachs analysts including Damien Courvalin said in a note. That could hit oil prices by as much as $3 a barrel, with a larger drop possible in the early days of the disease.
"The initial uncertainty on the potential scope of the epidemic could lead to a larger price sell-off than fundamentals suggest," Courvalin wrote. "Such a move could in fact be exacerbated by both the current large net-long speculative positions in oil and the monitoring challenges created by the Chinese New Year."
China has ratcheted up its response to the virus, launching nationwide screening as hundreds of millions of citizens prepare for trips over the holiday period, which starts Friday and lasts a week. There have been 440 confirmed cases across 13 provinces as of Jan. 21, the National Health Commission said in a briefing in Beijing on Wednesday.
Those travel plans are a risk for commodities, like steel and copper, that are used in building and infrastructure. Workers typically return to their hometowns every Lunar New Year. Regulations that discourage travel could delay their trips back and affect the restart of construction activity, said Sarah Zhao, an analyst at Huatai Futures Co.
The impact on agriculture could come if reduced economic activity hits the consumption of pricier items like meat and ripples through into animal feed and cooking oil.
"There is a chance that depressed sentiment and slowing economic activity might lead to a fall in agriculture prices, especially for corn, soybeans and palm oil," said Howie Lee, an economist at Oversea-Chinese Banking Corp. in Singapore. "But it is still early days, and it's not yet as rampant as SARS to be termed a pandemic."