Commodities Risk 'Across the Board' Losses on Trade War Hit
(Bloomberg) -- Investors in agricultural commodities and metals are taking a beating after China retaliated against U.S. tariffs, deepening concerns the trade war will derail global growth, hurting demand for raw materials.
The Chinese Ministry of Finance said the country will raise the levies on some U.S. goods beginning June 1. The escalation of the dispute between Washington and Beijing would weaken commodity prices across the board, Commonwealth Bank of Australia said in a note on Monday, before China issued the decision on tariffs. Metals are expected to be the most vulnerable, it said.
The Bloomberg Commodity Index Total Return was little changed at 165.17 at 10:15 a.m. in New York after a run of four straight weekly declines. A drop below 159.72 would erase this year's gains for investors. Heavy declines for base metals and agricultural products on Monday were partly offset by increases in gold and crude oil.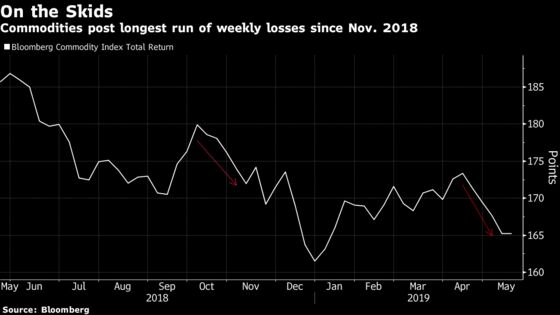 Commodities have been undermined as U.S.-China relations worsened, with Washington slapping extra tariffs on mainland goods last week and lining up further measures, while Beijing responded Monday. Copper extended losses Monday, heading toward $6,000 a metric ton, while corn, wheat and soybean futures declined. Gold erased losses as investors seek haven assets.
The Bloomberg Industrial Metals Subindex Total Return was down 1.4 percent at 9:59 a.m. in New York, after four weekly losses that marked the worst streak this year. A similar gauge that tracks corn, soybeans and wheat slipped 1.6 percent.
Apart from oil, "practically everything else is down today, dragged lower by ongoing trade tensions," Ed Meir, an analyst at INTL FCStone in New York, said in a note Monday. "Clearly, deteriorating trade sentiment is a negative for practically all markets, especially as it continues to corrode and undermine cross-border business investment."
Larry Kudlow, President Donald Trump's top economic adviser, said on Sunday that no further talks with China had been scheduled, though he raised the possibility Trump and President Xi Jinping will meet on the sidelines of a Group of 20 summit in Japan in June.
On Monday, U.S. officials are expected to announce details of a plan to impose a 25% tariff on all remaining imports from China.
"Everything's all connected," Phil Streible, a senior market strategist at RJO Futures, said Monday by phone. "The trade tensions breaking out and the escalation of tariffs back on the U.S. products is weighing in on not only global growth, but commodities as a whole."