China Export Slump Adds to Concerns Over Weakening Global Growth
(Bloomberg) -- China's exports slumped in February as seasonal factory shutdowns and continued uncertainty from the trade war combined to drag on shipments, adding to concerns over a weakening global economy.
Exports dropped 20.7 percent in February, the biggest plunge since February 2016. Like this year, the 2016 week-long Lunar New Year holiday fell earlier in the month than it had the previous year, meaning orders ramped up in January to beat factory closures. After averaging the first two months data to smooth the holiday fluctuations, shipments still dropped almost 5 percent.
The sluggish start to the year is a stark reminder for U.S. and Chinese negotiators how much is at stake for the global economy as they try to cool their trade war. Leading indicators for China's major trading partners point to further weakness ahead with the manufacturing PMIs for the euro area and Japan signaling contraction in February -- the first time both landed in that zone since early 2013.
"China is set to have a difficult time on trade, because on the U.S. front there is the trade war, and on the EU front the economy is really weakening," said Tommy Xie, an economist at Oversea-Chinese Banking Corp. in Singapore. The almost 5 percent drop in January and February "reflected the impact of the trade war and also a slowing global economy," he said.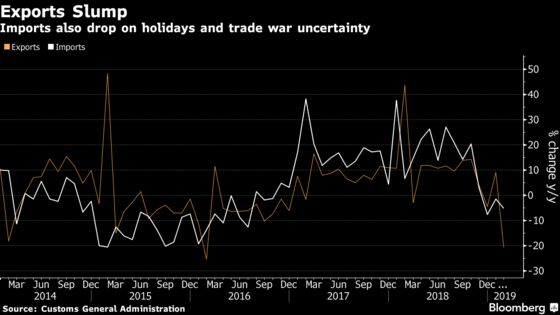 Stocks in Asia fell with U.S. and European futures amid renewed concerns about global growth and signs China is trying to slow down the country's equity rally. The yen climbed amid the risk-off sentiment.
Economists forecast both exports and imports would shrink, although not by as much as they did. In addition to the Lunar New Year shutdown that happens each year, February was an uncertain period for Chinese exporters, with negotiations continuing through the month on whether the U.S. would raise tariffs from March 1.
President Donald Trump eventually postponed the increase, but few details of a possible deal have been released and the future of trading relations between the world's two largest economies is still unclear. U.S. Ambassador Terry Branstad said on Friday in an interview with Bloomberg Television that significant progress had been made in the talks but that he had no particular date for a meeting between Trump and President Xi Jinping to sign a deal.
The U.S. trade deficit with China widened in 2018 to a 10-year high of $621 billion, bucking Trump's pledges to reduce it, as tax cuts boosted domestic demand for imports while the strong dollar and retaliatory tariffs weighed on exports.
Premier Li Keqiang moved this week to provide support for manufacturers, announcing a cut to the value-added tax of as much as 800 billion yuan ($119 billion), which will boost corporate earnings, according to Morgan Stanley. He also lowered the government's goal for economic growth to a range of 6 to 6.5 percent for 2019, down from about 6.5 percent last year.
Both exports and imports should pick up somewhat later this year, said Wang Tao, chief China economist at UBS Group AG in Hong Kong. Exports will be boosted as trade war uncertainties subside while imports will be bolstered as domestic policy easing kicks in, she said.
A more accommodative stance from central banks, an easing of trade tensions and China's measures to underpin growth may also help spur a better outlook later, said Patrick Bennett, head of macro strategy for Asia at Canadian Imperial Bank of Commerce in Hong Kong.
What Our Economists Say

China's February trade data showed a sharp loss of momentum in exports, even after ironing out Chinese Year New Year holiday related wrinkles. Given the tough global environment, the risk of a further sharp downturn in exports is high
Chang Shu and David Qu, Bloomberg Economics in Hong Kong
Click here for the full note
Still, the export components of both China's official manufacturing gauge and the Caixin PMI signal further weakness ahead. February's data reinforced the view that China's trade recession has started to emerge, said Raymond Yeung, chief China economist at Australia & New Zealand Banking Group Ltd. in Hong Kong.
"We find little reason to expect a rebound in the near term on the back of a sluggish global electronics cycle," he said. "The weak external demand will continue to weigh on China's first quarter growth. This requires a strong does of policy stimulus."