Chinese Stocks Cap Worst NPC Loss Since 2009 Despite Late Rally
(Bloomberg) -- A surge in Chinese stocks on the last day of the National People's Congress failed to prevent them from posting their worst performance during the event since 2009.
The CSI 300 Index fell 2.9% over the week-long legislative meeting, the Communist Party's biggest political event of the year. That's despite the gauge surging 2.5% Thursday, its biggest daily gain in two months.
An equity rout triggered by growing concern over liquidity tightening and possible asset bubbles cast a cloud on this year's gathering, which was condensed into half its usual two-week length due to coronavirus restrictions. Despite gaining in the last two sessions, the benchmark stock gauge is still down 12% from a 13-year high reached on Feb. 10. With the NPC concluding, some investors are looking for buying opportunities.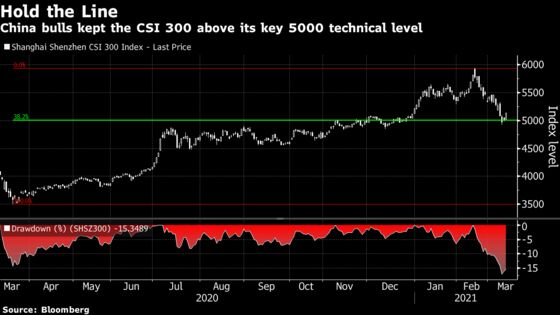 "I will buy the dip selectively in Chinese stocks after the NPC," said Paul Pong, Hong Kong-based managing director at Pegasus Fund Managers Ltd. "Sectors related to domestic demand have good fundamentals, given that the country recovers from the pandemic quickly."
Offshore investors purchased a net $1.03 billion of Chinese shares via stock links with Hong Kong on Thursday, a third straight day of net buying.
The CSI 300 index's rally Thursday followed a 0.7% advance in the previous session, giving the gauge its first back-to-back gain in a month, amid calls for calm in the local media. The measure had plunged 14% in just 14 trading days through Tuesday, wiping out more than $1.3 trillion from equities.
New investors should stay rational amid rising volatility in the stock market and focus on long-term investments, the Securities Times newspaper said.
"Further precipitous drops are unlikely, with valuations in some sectors near that of late 2019 -- they aren't outrageously high," said Nie Wen, an economist at HuaBao Trust Co. "Growth can still be expected in cyclical sectors so that is where I am most upbeat for the coming months."
Gains in the CSI 300 gauge were broad based on Thursday, with all sectors rising, led by materials shares and consumer staples. The measure is now trading at 14.8 times its 12-month forward earnings, down from 17 times on Feb. 10, according to data compiled by Bloomberg.
The two-day rebound comes after the spread between sell-side analysts' forecasts and the CSI 300 index's level reached the widest since the depths of the 2015 selloff on Tuesday, when the gauge posted its lowest close this year.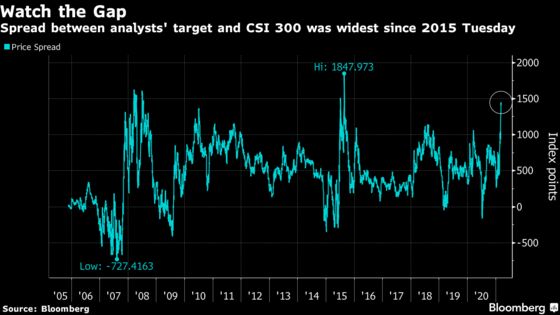 "Valuation has become more reasonable," said Andy Wong, a fund manager at LW Asset Management. "It's now a good time to consider whether you want to collect stocks that benefit from long-term mega trends."
China's largest stock Kweichow Moutai Co. jumped 4% to contribute the most to the benchmark's advance on Thursday after the liquor maker lost more than 20% in the recent selloff. Banks also staged strong gains following a beat in credit data released late Wednesday.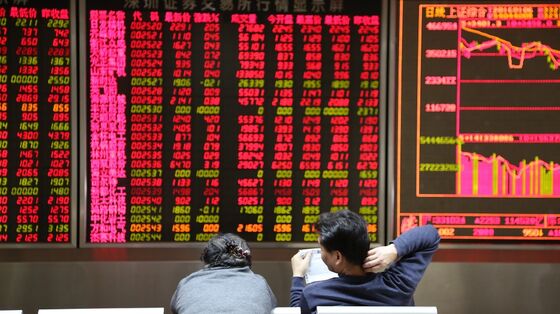 "One thing to worry about though is that China could tighten liquidity when the economy recovers further in the middle of this year, which could be bad for the stock market," said Pong of Pegasus. "That's why I would just do selective purchases and remain cautiously optimistic."