Chinese Oil Trader's $688 Million Loss Drags Down Sinopec Profit
(Bloomberg) -- China's oil refining giant said its trading unit lost almost $700 million last year after being wrong-footed by zigzagging markets, revealing one of the biggest losses by a commodity trader in the last decade.
Sinopec blamed the losses at its Unipec unit in part on "inappropriate hedging techniques" and said it closed its positions after discovering the problem. Oil plunged sharply in late November and December, prompting speculation that Unipec may have contributed to the drop as it unwound contracts.
The Unipec blunder, compounded by other charges, prompted Sinopec to release Friday a full-year net income estimate that's below expectations, according to analysts at Sanford C. Bernstein & Co. and Bloomberg Intelligence.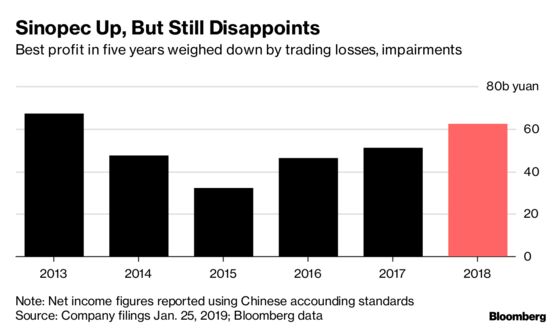 The trading loss marks a sharp reversal for Unipec, which grew over the last 25 years to become one of the largest and most aggressive oil traders. With operations spanning London to Singapore, the company trades about 5 million barrels a day, according to people familiar with the matter, putting it ahead of other giant merchants such as Glencore Plc and Trafigura Group.
Sinopec said its trading arm reported operating losses of $688 million for the full year of 2018. That means the underlying trading loss could have been larger, but offset by other gains. The company declined to provide further details on Friday.
"Unipec played with probably lousy controls and lost as markets turned," said Jean-Francois Lambert, a former commodity trade finance banker at HSBC Holdings Plc and industry consultant. "Beijing will be very upset and Unipec, if it survives, will be given very tight guidelines: ensure sufficient supply and that's it."
To read about Sinopec's 2018 upstream and refining performance, click here.
Sinopec, officially known as China Petroleum & Chemical Corp., also expects to take a 10 billion writedown on upstream and refining assets, as well as a 15 billion yuan inventory loss, Morgan Stanley's Andy Meng said in a research note after the company held a call with analysts Friday. Refining companies typically book inventory losses after oil prices drop and they revise the value of crude and fuel in storage.
The troubles at Unipec were unearthed as prices began to crash in the final quarter of last year. Brent crude, the global benchmark, tumbled from nearly $87 in October to just below $50 after Christmas.
The loss was first reported in late December and led to the suspension of two top executives -- Chen Bo, the president of Unipec, and Zhan Qi, the company's Communist Party secretary.
"Sinopec discovered in its regular supervision that there were unusual financial data in the hedging business of Unipec," it said in a statement. "Further investigations have indicated that the misjudgment about the global crude oil price trend and inappropriate hedging techniques applied for certain parts of hedging positions" resulted in the losses.
The company then terminated the transactions and took measures to prevent further losses.
Oil trading executives speculated that the situation might have contributed to the sharp drop in oil prices in December, when large sell orders came in a market deprived of liquidity due to the Christmas holiday period. While other factors were also behind the global price move, "the unwinding of positions held by them would have contributed to the volatility," said Amrita Sen at consultant Energy Aspects Ltd.
There have been bigger oil trading busts. Metallgesellschaft AG suffered a $1.2 billion loss in 1994 when a hedging strategy failed. But Unipec's eclipses China Aviation Oil's infamous $550 million blunder in 2004, when the company fell foul of a surge in oil prices that forced it close speculative trades.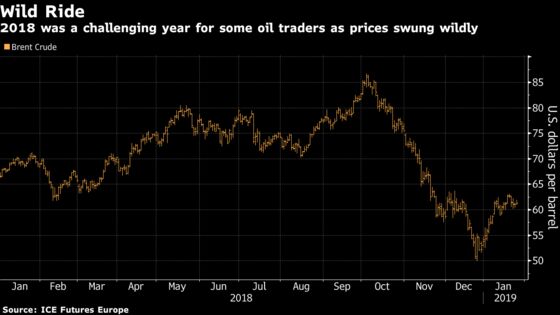 Sinopec and its trading unit are "under normal production and operation," it said in a stock market filing on Friday.
As a refiner, Sinopec is exposed to fluctuations in the cost of the oil it processes, said John Driscoll, a former oil trader and the chief strategist at JTD Energy Services Pte Ltd. It may have protected itself against rising prices as crude soared to a four-year high in October, leaving it exposed to the sharp correction that followed, he said.
"You have a market that, peak-to-trough, dropped more than 40 percent in a few months. That's huge," Driscoll said. "It's not surprising seeing a buy-side hedger like a major crude importer taking a big hit. In that kind of an environment, everyone who hedges faces a moment of reckoning."