Chinese Master's 1,000-Year-Old Scroll Fetches $59 Million
(Bloomberg) -- A 1,000-year-old Chinese scroll rendered by the era's most important artist sold for HK$463 million ($59 million), falling short of expectations that it would set a new Asian record for a work of art at auction.
The work depicting a withered tree, new bamboo shoots and a rock was sold Monday night to a client bidding by telephone through Rebecca Wei, president of Christie's Asia. The auction house had estimated the work would sell for about HK$400 million, excluding buyer's premium added to the hammer price.
The scroll is one of only two known to exist by the 11th century Song dynasty master Su Shi, who holds a preeminent place in the history of Chinese art and continues to inspire the country's artists.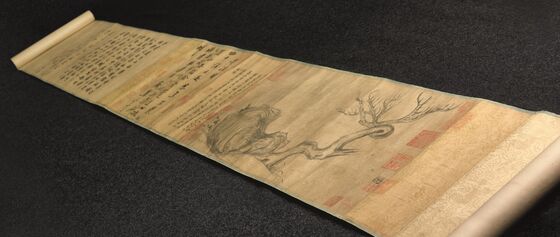 Su Shi is a household name in China, revered as a scholar, statesman and writer often compared to Leonardo da Vinci for his renaissance qualities.
Bidders were required to pay a deposit of $20 million just to wield a special gold-colored paddle. The last known owner was a Japanese family that has possessed it since 1937. The scroll also contains 41 collectors seals and four commentaries by famous poets providing provenance tracing back to the 11th century.
The only other scroll known by Su Shi is in the National Palace Museum in Taiwan.
The record for a single work of Asian art at auction was set in September when a 20th century painting by Chinese-French master Zao Wou-Ki sold for $65.2 million at Sotheby's in Hong Kong.