Angst Over Chinese Spending Shaves $10 Billion Off Liquor Stock
(Bloomberg) -- One of China's most potent symbols of luxury spending at home -- the fiery liquor churned out by Kweichow Moutai Co. -- was dealt a $10 billion blow to its market value, the latest company to be hit by anxiety over a pullback in consumer spending.
Moutai, which makes the baijiu liquor that's favored by China's leaders and often prized as a luxury gift, plunged Monday after disappointing earnings. The company on Sunday posted its slowest quarterly profit growth in almost three years.
The tumble of the world's most valuable distiller heightens concern that jittery Chinese consumers have turned conservative, with luxury goods now also affected by angst over the outlook of the world's second-biggest market. China's economy, which grew at its slowest pace last quarter since the aftermath of the global financial crisis in 2009, faces deepening trade tensions with the U.S. and a slumping stock market.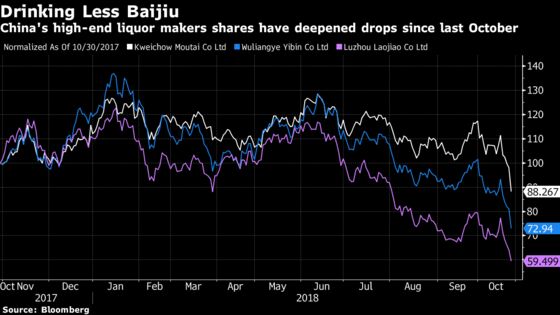 "There are increasing concerns over China's luxury market, especially amid the escalating trade war," said Qi He, a Shanghai-based fund manager at Huatai Pinebridge Fund Management Co. "There are too many uncertainties and it's unknown how long trade tensions will last, so people are more reluctant to buy high-end goods."
Moutai shares, along with those of rival Wuliangye Yibin Co. and Jiangsu Yanghe Brewery Joint-Stock Co., fell by the daily limit of 10 percent. Shares of Luzhou Laojiao Co., another liquor maker, tumbled as much as 8.6 percent. Those losses dragged a gauge of consumer stocks down by the most since 2015.
While the majority of analysts tracked by Bloomberg still have buy ratings on Moutai, its higher-than-average valuation is adding to concern about its ability to meet high growth estimates.
Moutai was downgraded to "accumulate" from a "buy" by Zhongtai Securities Monday while its target price was lowered by CICC analysts. The company's 4 percent revenue increase in the third quarter was well below analyst estimates.
Though CICC expects Moutai's revenue growth to rebound in the fourth quarter, the firm lowered Moutai's earnings forecasts for this year and 2019 on concern the company may miss its forecast again if its short-term liquor supply doesn't improve.
"Moutai is a special case because of its ultra-premium brand, people buy it to store it, not just to consume. Even high-end baijiu is being impacted by a weaker economic environment, as well as the rest of the luxury sector," said Bloomberg Intelligence analyst Shen Li. "If you look forward to 2019, it does signal that things are slowing down."
Moutai and other liquor makers also face the risk of possible Chinese government measures to curb alcohol consumption as part of a health drive.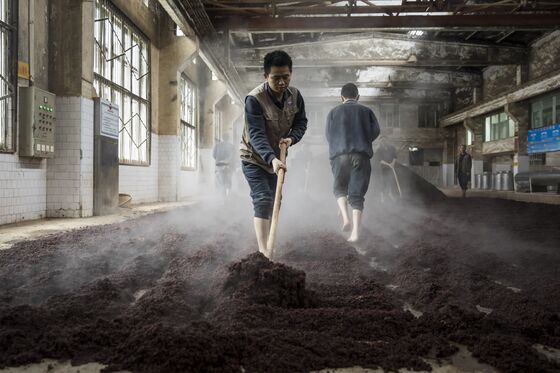 Moutai's revenue climbed to 19.72 billion yuan ($2.84 billion) in the quarter ended Sept. 30, the Guizhou-based company said in a statement Sunday. Net income rose almost 3 percent to 8.97 billion yuan. Its inventory remains scarce, which helps to prop up demand for its fiery grain liquor even as other luxury companies say that Chinese demand is ebbing as consumer confidence wanes.
Wuliangye also showed signs of a slowdown as it reported a 20 percent growth in net income, the slowest growth since the fourth quarter of 2016. And though Luzhou Laojiao reported net income grew 46 percent in the third-quarter from a year earlier, analysts estimate that to slow to 13 percent in the next quarter.