Shimao Default Notice Hammers Bonds, Stokes China Property Fear
(Bloomberg) -- Shimao Group Holdings Ltd., a bellwether for financial contagion in China's embattled property industry, suffered its biggest-ever bond rout on Thursday after a creditor said one of the developer's units defaulted on a local loan.
The Shimao unit failed to pay 645 million yuan ($101 million) of a total 792 million yuan due by Dec. 25, according to a notice sent to investors by China Credit Trust Co. The trust firm had demanded early repayment by Dec. 25 after the developer failed to meet installment requirements, according to the notice.
Dollar bonds from Shimao -- which builds residential, hotel, office and commercial properties and is among the largest debt issuers in China's real estate sector -- slid by a record. The firm's 4.75% note due July slumped 25.1 cents on the dollar to 45 cents as of 4:56 p.m. in Hong Kong. That capped what had already been a bad day for the broader market for Chinese developer notes, after junk-rated dollar securities fell 1-2 cents.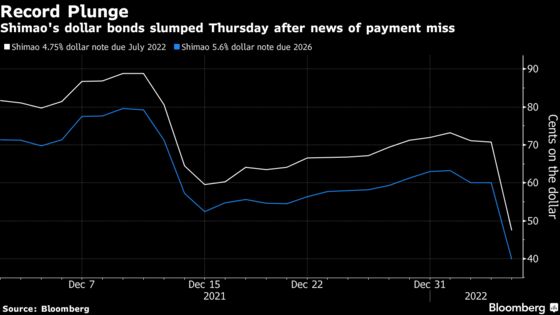 China's property industry has been rocked by a string of debt failures by major developers, following a government crackdown on excessive borrowing and speculation in the housing market. Long considered one of the healthier builders, Shimao Group had until recently appeared largely unscathed even as junk-rated rivals including China Evergrande Group and Kaisa Group Holdings Ltd. defaulted. The plunge in Shimao bonds is likely to stoke fears of financial contagion in a sector that accounts for about a quarter of output in the world's second-largest economy.
Shimao is China's 14th biggest developer by contracted sales and has about $10 billion in outstanding local and offshore bonds. The company didn't immediately respond to requests for comment.
China Credit Trust raised funds for Shimao by selling the high-yielding investment product to investors, and also oversees payments from the borrower. Shimao is a guarantor of the trust product, which was originally due in less than three months.
Shimao's stumble in credit markets in recent weeks has stood out in a market already stung by mounting debt failures, given there had until late last year been few indications it would struggle to honor obligations.
The developer's onshore unit, Shanghai Shimao Co., reported 99.2 billion yuan in total liabilities as of the end of September, according to its financial results for the third quarter. Total assets reached 153.1 billion yuan.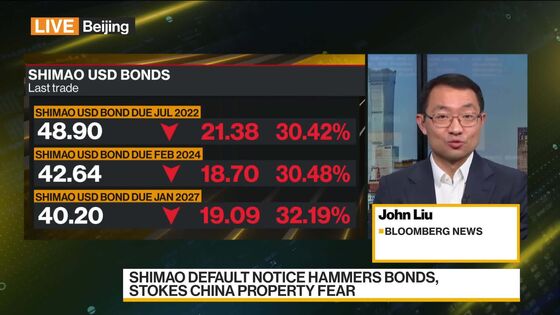 The firm had passed all of the so-called three red lines -- metrics introduced to curb borrowing among developers -- according to Bloomberg-compiled data including first-half results.
But concerns mounted in recent months. Credit assessors repeatedly cut their views on Shimao, pushing the borrower into so-called fallen angel territory in November. Liquidity risk concerns have persisted, even after a recent share placement and the firm's pledge of its Shanghai headquarters for financing.
A Shimao Group unit announced the sale in December of its property management assets to Shimao Services -- a move JPMorgan said implied tight liquidity for Shimao and was a "corporate governance red flag."