China Urged Evergrande's Hui to Find Quick Fix for Debt Woes
(Bloomberg) -- When China Evergrande Group founder Hui Ka Yan appeared at the Communist Party's 100th anniversary celebration in Tiananmen Square on July 1, investors cheered at the implication that the embattled property tycoon still enjoyed favor in Beijing.
Behind the scenes, the message Hui received from China's top financial regulator was far more sobering. In a meeting at the nation's capital shortly before the July 1 festivities, officials at the Financial Stability and Development Committee urged Hui to solve his company's debt problems as quickly as possible, people familiar with the matter said.
The previously unreported discussion suggests Chinese authorities have become increasingly concerned that Evergrande poses systemic risks to the world's second-largest economy. It adds pressure on Hui to deliver a more decisive fix to Evergrande's finances, which have come under growing strain in recent weeks as the company's bonds and shares tumble.
FSDC officials asked Hui to consider bringing in strategic investors to stabilize the property giant, emphasizing the need to avoid major shocks to the economy, one of the people said. Hui told the officials he's been speaking with local governments as he looks for a solution, another person said, asking not to be identified discussing sensitive information.
It's the latest twist in a financial drama that has turned Evergrande into a subject of intense speculation on trading desks from Hong Kong to New York.
While the world's most indebted real estate company has been offloading assets and accelerating property sales to reduce leverage, it has so far failed to revive confidence among creditors, suppliers and some homebuyers who worry the company will struggle to make good on its $302 billion mountain of liabilities.
Evergrande's shares have tumbled more than 36% this year to a four-year low, and its longer-dated offshore bonds have traded in the 60 cents range. The note due 2025 got a boost Friday on the Bloomberg News report, adding 1.8 cents on the dollar to 62.7 cents.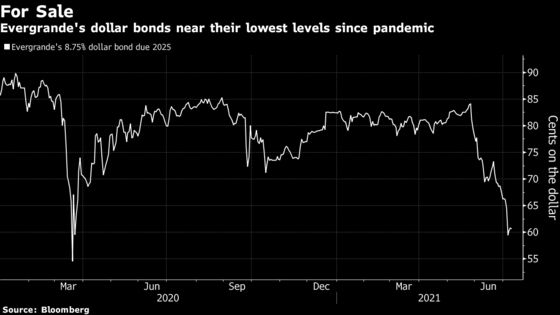 The Chinese government has so far kept quiet about whether it will provide financial support for Evergrande, leaving investors to guess at its odds of becoming the next casualty of President Xi Jinping's campaign to rein in moral hazard and tighten the state's grip on key sectors of the economy.
Whatever solution Evergrande and Chinese authorities land on, it's sure to be scrutinized for broader implications. Any move to significantly dilute shareholders including Hui, who owns a controlling stake in the developer, or impose losses on creditors could undermine confidence in other financially stressed companies across China. Conversely, a less onerous capital injection from private investors or government-linked funds could trigger a significant relief rally.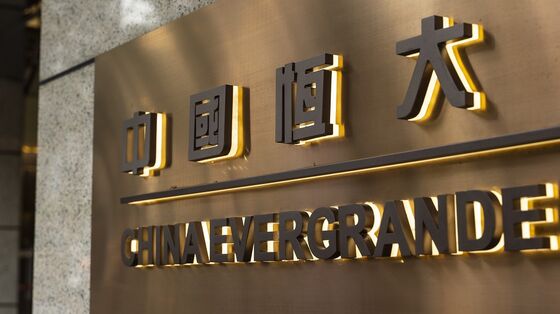 Some investors have looked to billionaire Zhang Jindong's Suning group of companies as one potential road map for Evergrande. Zhang lost control of Suning.com, his troubled retail unit, after securing a $1.36 billion investment this month from a consortium that included funds linked to governments in the company's home province of Jiangsu. Among the reasons Zhang needed the cash injection: He has 20 billion yuan ($3 billion) tied up in an investment with Evergrande.
Representatives for Shenzhen-based Evergrande said they couldn't immediately comment. The People's Bank of China and the China Banking and Insurance Regulatory Commission, both of which have representatives on the FSDC, didn't immediately respond to requests for comment.
Hui's conversation with the FSDC followed a meeting about a month earlier between the tycoon and regulators including the central bank, which ranks below the FSDC in China's government hierarchy, one person familiar with the matter said. In that earlier meeting, officials urged Hui to speed up asset sales, cut debt and ensure that Evergrande pays its liabilities on time, the person said.
The developer announced at the end of June that it had cut interest-bearing debt by 20% in the first half to $88 billion. That enabled the company to meet one of China's "Three Red Lines," a trio of metrics that policy makers have used to encourage the property industry to deleverage.
Evergrande's debt-reduction efforts have failed to convince investors partly due to concerns that the company is simply shifting liabilities to other parts of its balance sheet. The developer's total liabilities -- which include short-term payables such as commercial bills -- grew to a record 1.95 trillion yuan last year. Several Evergrande units have fallen behind on commercial bill payments this year, one reason the company's bonds and shares have tumbled.
Evergrande pledged last month to make good on overdue commercial bills and has said it has never missed a payment on public bonds.
A key question hanging over Evergrande is whether China's state-owned lenders will continue funding it. Several banks have decided in recent months not to roll over loans to the developer, people familiar with the matter told Bloomberg in June.
Others have allowed Evergrande to extend portions of credit lines it has already tapped, partly due to concern that a large reduction in lending would risk destabilizing China's financial system. The FSDC recently instructed major creditors of Evergrande to conduct a fresh round of stress tests on their exposure, people familiar with the matter said last month.
The company's plunging shares have been costly for Hui, 63, the son of an impoverished wood cutter who built a sprawling empire ranging from condos to soccer clubs and electric vehicles to become China's 20th-richest person. His net worth has dropped 28% this year, or about $6.6 billion, to $16.7 billion.