China Traders Enjoy Rare Day of Calm in World's Wildest Market
(Bloomberg) -- Chinese traders earned some respite from the gut-churning moves in the nation's equities on Wednesday, though the calm isn't likely to last.
The Shanghai Composite Index added as much as 0.4 percent after dropping 0.7 percent. Holding this small a range would mark a relatively calm session for the world's wildest equity market, which has seen intraday swings exceeding 2 percent for six sessions, the longest period of turbulence since U.S. volatility rocked global stocks in early February. In 2017, the gauge moved just 0.8 percent on average intraday.
In the past week, China's sweeping support measures have stoked the biggest rallies in years for stocks, after margin calls triggered the most severe drawdowns since 2016. While the government may have put a floor under stocks for now, investors will want to see a more "comprehensive" plan from the government before sentiment improves, according to Credit Suisse Group AG.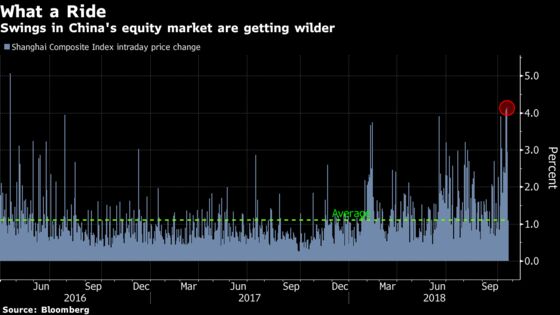 "Recent measures may stabilize the market's confidence for a while, but more fundamental steps are needed," Credit Suisse strategists Vincent Chan and Pearl Xu wrote in a note.
The swoons have driven up demand for ways to hedge against wild moves in the country's equities, whether they go up or down. Still, China is having greater success taming its exchange rate: the yuan's intraday volatility versus the dollar has tumbled even as trading volume jumped to the highest level since officials devalued the currency in 2015.