China to Test Income Redistribution Reforms in Zhejiang Province
(Bloomberg) -- China will test income redistribution reforms in the eastern province of Zhejiang, which will become a pilot zone for policies to promote "common prosperity" as the government explores ways to boost consumption by reducing inequality.
The Zhejiang government will seek to narrow the development gap between rural and urban areas, promote high-quality growth and develop public services, according to a State Council guideline published Thursday. It will also "properly adjust excessively high incomes," crackdown on illegal income, and encourage entrepreneurs to develop philanthropy projects to give back to society.
The province will also be more proactive in adjusting income distribution and properly setting a minimum wage standard, according to the guidelines released by the Xinhua News Agency, which didn't go into detail about how the income policies would work in practice.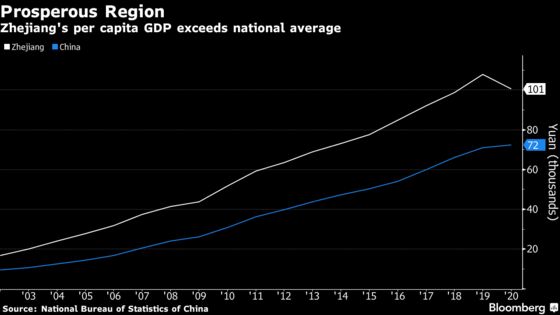 "China's development is still unbalanced and inadequate and there is a large gap in development and income distribution between urban and rural areas and between regions," according to the guidelines. "To promote common prosperity for all is a long-term and arduous task, and we need to select some regions to take the lead and set an example."
Income inequality has long been an issue in China, and this grew worse during the pandemic when millions of domestic migrants and factory workers lost jobs due to lockdowns and restrictions on work and movement. This helped cause a slump in private consumption, which hasn't rebounded as quickly as the industrial and real-estate sectors.
The government is putting more focus on inequality, pledging to fix the "demand side" of the economy for the first time in late 2020. In March the government reported that there was still large income differences and announced a goal of making substantial progress on achieving "common prosperity" and reducing the gap between residents' living standards by 2035.
Zhejiang will aim to achieve common prosperity and raise its per capita gross domestic product to the level of developed countries by 2035. The province, known for its thriving economy and robust private sector, will make solid progress by 2025 in narrowing the income gap, with its per capita GDP expected to reach the level of moderately developed economies, according to the guidelines.