China to Take a Third Less West African Oil as Virus Hits Demand
(Bloomberg) -- The volume of crude that will be shipped to China from West Africa next month is set to drop by at least ten million barrels as the demand destruction caused by the coronavirus hits home.
Exports of March-loading cargoes to China are expected to total no more than 20 million barrels in March, according to three oil traders who specialize in West African grades. That compares with about 33 million barrels that were scheduled for export to the Asian nation in February, data compiled by Bloomberg show. China is the biggest buyer of crude from the region, whose key producing nations include Angola and Nigeria.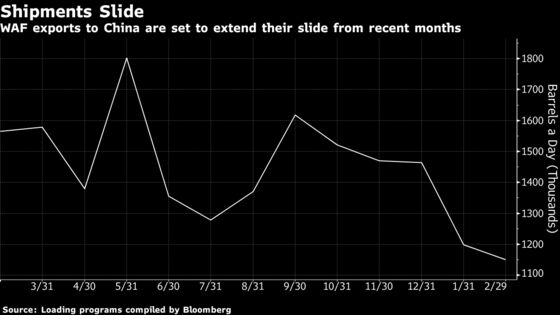 If the flows transpire as expected, the tally would be the lowest monthly volume to China from the region since at least January 2012. More bookings could be made in the coming weeks and cargoes can be re-sold before they reach their destination.
Flows from West Africa already slumped this month to about 1.15 million barrels a day -- the lowest monthly rate since June 2018 -- but the effects of coronavirus are expected to be more visible in March volumes, since most February cargoes had already been traded before the crisis intensified. March shipments only began trading in mid-January.
A glut of West African crude is also having a knock-on effect elsewhere. Some of the surplus oil is being shipped to Europe, putting differentials for crude grades in that region under pressure from the increased competition amid weak refining margins, the traders said.