China to Ease Developer Funding Limits in $152 Billion Market
(Bloomberg) -- China plans to let property companies resume issuance of asset-backed securities, ending a three-month market freeze as authorities move to insulate higher-rated developers from an industrywide funding crunch.
Financial regulators recently told Chinese exchanges that "high quality" developers can apply to issue new ABS to repay outstanding debt, people familiar with the matter said, asking not to be identified discussing private information. A unit of state-owned developer China Resources Land plans to issue 520 million yuan ($81.5 million) of ABS this week.
No developers have sold ABS since August after the government began restricting approvals in the second quarter, one of the people said. Outstanding ABS issuance by the industry reached the equivalent of $152 billion in April, according to GF Securities Co.
China also plans to relax a rule that limits the size of new interbank bond issuance by developers to 85% of their outstanding interbank debt, people familiar with the matter said. The relaxation will apply only to high quality issuers, though it couldn't immediately be learned how that label will be defined.
Regulators are fine tuning their long-running crackdown on the property sector after a credit crunch at China Evergrande Group and other junk-rated developers began spreading to higher-rated peers, banks and even some tech companies. 
The turbulence became extreme enough to elicit a warning this month from the Federal Reserve that fragility in China's real estate sector could spread to the U.S. if it deteriorated dramatically. The property downturn has already spurred analysts to cut growth forecasts for China's economy and stoked concerns about social unrest among aggrieved homeowners and individual investors who plowed their savings into developers' shadow-banking products.
While there's no indication Xi Jinping's government plans a major reversal of its campaign to rein in highly indebted real estate companies, authorities have taken several steps in recent weeks to shore up investor sentiment and ensure the industry's strongest players retain access to funding. Those measures have helped stem a selloff in China's $827 billion offshore bond market and set the stage for the strongest month of debt issuance by developers in the local interbank market in eight months.  
The China Securities Regulatory Commission and the National Association of Financial Market Institutional Investors, which oversees the interbank bond market, didn't immediately respond to requests for comment. The Shanghai Stock Exchange declined to comment.
Fears of financial contagion among property companies began intensifying last month after a surprise default by Fantasia Holdings Group Co., which had just weeks earlier assured investors it had ample liquidity. Kaisa Group Holdings Ltd. became the latest developer to miss interest payments on dollar bonds last week, starting the clock on a 30-day grace period.
Yields on a Bloomberg index of junk-rated Chinese dollar bonds surged to nearly 25% at the start of last week -- the highest level on record -- and borrowing costs for investment-grade issuers like Tencent Holdings Ltd. also spiked. Both have since pulled back from their highs, even as bonds issued by several junk-rated developers including Evergrande continue to price in a high likelihood of default.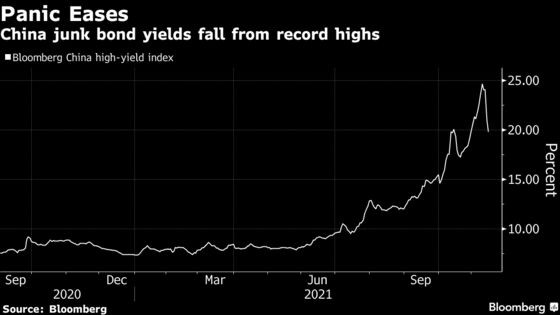 Investor angst has receded in recent days after a series of articles in state media indicated a relaxation of funding restrictions on developers, though most of the reports lacked specifics.
The sustainability of the bond rally will hinge on how much pain authorities are willing to tolerate as they attempt to wring the financial excesses from the real estate sector without derailing the economy. 
China's banking regulator hinted on Friday that policy makers are in no mood for a dramatic policy shift, vowing to curb the "financialization of real estate" and prevent the sector from turning into a bubble.