Beijing Hit by Heavy Smog; Xi Addresses PLA: NPC Update
(Bloomberg) -- China's benchmark CSI 300 stock index staged a modest recovery Wednesday, following heavy losses over the past month. One of the questions on traders' minds now is whether authorities will do more to calm sentiment amid signs of recent state-linked buying as China's annual National People's Congress entered its sixth day.
While attending a group discussion of the military delegation during the NPC in Beijing on Tuesday, Chinese president Xi Jinping urged the People's Liberation Army to be prepared for various "complexities and difficulties."
Heavy smog enveloped the Chinese capital city on Wednesday, with concentration of PM2.5 -- airborne particles considered the most dangerous to human health -- reaching the worst levels in more than two years.
Click here for more coverage of this year's NPC
Full Reports from the NPC: Work on Legislative Affairs; Top Court
A QuickTake explainer on the NPC
Five-Year Plan in Numbers
Bloomberg Intelligence reaction to GDP goal; policy implications for banks
A look at China's green goals
Latest developments: (Time-stamps are local time in Beijing)
Upcoming Events: Closing Ceremony, Premier's Briefing
Wednesday-Thursday morning: NPC delegates review work reports and legislative revisions in groups
Wednesday 3 p.m.: Closing session of CPPCC, the political consultative body's conference
Thursday, 3 p.m.: NPC closing session. Delegates will vote on work reports, 14th Five-Year Plan, and other legislative revisions including decision on overhaul of Hong Kong's electoral system
Thursday afternoon — Premier Li Keqiang to speak to reporters
Sinochem Urges to Protect Seed Industry IP (04:41 p.m.)
China must protect intellectual property rights in the seed industry to foster innovation and ensure a level playing field, Sinochem Group Chairman Ning Gaoning told the official Xinhua news agency during the NPC.
Companies will invest more in research if they know the crop varieties they are creating to boost yields or use less water are protected, said Ning. Total investment by Chinese companies in seed research is just 40% of investment by a single global giant, the report cited Ning as saying, but didn't elaborate.
Ning's call comes as China struggles to improve seed varieties and raise crop yields in coming years to ensure food security. Agriculture minister Tang Renjian said at the National People's Congress on Friday that the country will crack down on seed producers copying others or fabricating brand names.
Beijing Hit by Heavy Smog (1:34 p.m.)
The China Air Quality Index, a gauge tracking the level of the pollutants in the Chinese capital city, surged to 263 as of midday, the highest since January 2019.
The Beijing city government issued an alert Tuesday for heavy air pollution in the coming days and said the city will halt some industrial production from Wednesday.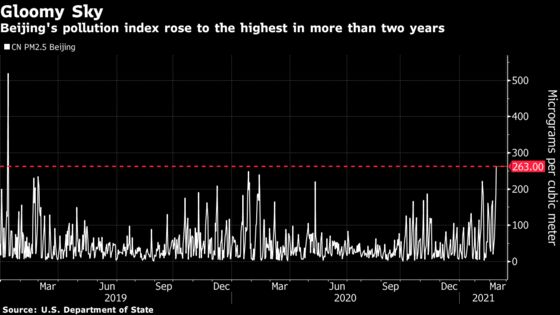 China Appears to Ban 'Stock Market' From Social Media Search (12:52 p.m.)
China's stock rout turned so extreme that state-backed funds intervened to calm the market on Tuesday, but finding any news about what happened proved somewhat difficult on the mainland.
On Weibo, the Twitter-like platform with about half a billion active users, a search for Chinese equivalent of "stock market" generated no posts on Wednesday, suggesting the phrase had been censored. Users could still post using the term, and searches for words that mean "plunge," "A-shares" and "stocks" were successful as of 11 a.m. local time.
An article in the Shanghai Securities News, one of China's most widely circulated financial dailies, said large insurers bought stocks on Tuesday. The report also denied recent "rumors" that insurers had made large-scale redemptions of stock funds, citing investment managers at companies in the sector.
Still, mentions of the stock plunge were notably absent from the front pages of China's major financial newspapers on Wednesday, which instead focused on President Xi Jinping's comments about national defense during the annual session of the National People's Congress.
Stocks Rebound With More State Intervention Eyed (10:16 a.m.)
The CSI 300 Index halted four days of losses, rising as much as 1.7%. State intervention on Tuesday briefly arrested the tumble, before losses resumed.
The hand of the state has become less obvious since 2018, when the government reportedly liquidated a handful of mutual funds it had formed three years earlier to purchase stocks during a crash. But the government has long acted to ensure China's financial markets are stable, especially around key events. The NPC is one such occasion. To see such turmoil in markets while the NPC is in session is highly unusual. The last time the CSI 300 lost more than 1% during the annual event was in 2014, and the current pace of losses would be the biggest since 2008.
Xi Urges Army to Get Prepared (10:15 a.m.)
While attending a group discussion of the military delegation during the annual national legislative session on Tuesday, Chinese president Xi Jinping said the country faces "relatively big instability and uncertainty" in the security environment. Thus, the PLA needs to coordinate priorities between building up the military and war preparedness, he said.
Xi also instructed the military to improve self-reliance on science and technology in the defense sector.
NPC Delegates Call for Reform of NEEQ board (10:00 a.m.)
China should push for further reform of its Beijing-based over-the-counter stock board, the National Equities Exchange and Quotations (NEEQ), to support the growth of small- and medium-sized enterprises, the China Securities Journal reported Wednesday, citing proposals from delegates during the National People's Congress.
One of the proposals called for establishing a mechanism to facilitate the transfer of listings of quality companies traded on NEEQ to other domestic stock trading venues such as Shanghai's Nasdaq-style technology board or Shenzhen-based ChiNext, the report said.
The NEEQ sets its bar for listing much lower than the ChiNext, with no requirement for profitability, for example. It is China's biggest OTC market with more than 9,000 companies, but turnover is tiny. Retail investors must have at least 5 million yuan of securities assets to participate.
Deepening reforms of the NEEQ board will enhance the stock board's products and services, but a lack of liquidity remains a challenge, the report added.
Cheng Warns Against 'Oblivious' Criticism of China (Tuesday 06:26 p.m.)
Hong Kong's top legal official warned residents to steer clear of criticisms of the government that stray too far from the facts, as officials defend Beijing's plan to overhaul the city's elections.
Hong Kong Justice Secretary Teresa Cheng said in an interview Tuesday that opinions were "no more than an utterance of no value" if the facts weren't established. Cheng was answering a question about what kind of criticism would be legal in the former British colony as Beijing implements a range of legal changes including a national security law and the electoral overhaul.
"Some of the statements that are sometimes uttered, that we hear, are actually not based on facts, or perhaps oblivious of the facts that exist," Cheng told Bloomberg Television. "And I think that is what one has to be very careful not to embark upon."